By JAMES ALLAN
hawkeyesports.com
PISCATAWAY, N.J. – The 10th-ranked University of Iowa men's basketball team outlasted No. 14 Rutgers for a big road victory – a 77-75 triumph on Saturday afternoon at the RAC.
The win was Iowa's ninth of the season and its first road win over a ranked foe since 2017. The Hawkeyes improve to 9-2 overall and 3-1 in Big Ten play.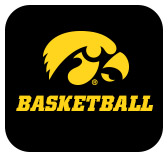 Senior Luka Garza scored 13 straight Hawkeye points down the stretch to finish with a team-high 25 points, making 9-of-11 field goals and 6-of-7 free throws. Freshman Keegan Murray finished with a career-high 14 points and nine rebounds, and senior Jordan Bohannon had 13 points (with three 3-pointers) and four assists.
Iowa trailed by as many as seven points three times in the second half before reeling off a 10-0 run to turn a 54-47 deficit into a 57-54 lead. Junior Joe Wieskamp had a three-point play to start the run, Bohannon hit a deep 3 in transition, and Wieskamp capped the run two free throws with 7:22 to play.
The final seven minutes was a white-knuckle affair, featuring two ties and nine lead changes.
"They were playing so aggressive defensively, our guards weren't able to get the ball to me," said Garza. "It was a credit to them and their game plan, it was tough to catch it. All I had to do was get the ball in my hand and I knew I could score, but that was easier said than done the whole game."
Garza started his personal 13 point run with a layup to put Iowa up 61-59 with 6:30 remaining, but Rutgers kept pace. After Garza hit two free throws to cap his spurt and make the score 70-68, Rutgers' Myles Johnson made 1-of-2 free throws and Ron Harper, Jr., got an offensive rebound and thunderous put back dunk to give the Scarlet Knights a 71-70 lead.
After trading four field goals, Wieskamp missed a 3-point attempt from the top of the key with 16 seconds remaining, but Murray secured the offensive rebound and was fouled. The forward then knocked down both free throws to give Iowa a 76-75 lead.
Iowa's defense buckled down, as Geo Baker lost the ball going up and Johnson couldn't coral the ball near the rim and stepped out of bounds in the process to give Iowa possession. After Wieskamp made 1-of-2 free throws with three seconds left, Rutgers had a last-second runner, but Jacob Young's off- balance attempt was off the mark.
It was Rutgers' second home loss in their last 26 games at the RAC.
Iowa shot 46.4 percent (Rutgers shot 43.7 percent) for the game and made seven 3-pointers. The Hawkeyes were +14 at the free throw line, making 18-of-23 attempts (compared to 4-of-12 for Rutgers), but the Scarlet Knights did force 15 Iowa turnovers.
"It was a complete team effort," said Murray. "We showed we could battle with tough teams, great defensive-minded teams. It showed we're battle tested and it will help us down the stretch when we play other teams in the Big Ten."
Five Rutgers players landed in double figures with Young leading the way with 17 points.
QUOTING HEAD COACH FRAN MCCAFFERY
"The productivity we got off the bench was really good. Keegan was great, Jack had seven rebounds in the first half, Patrick was terrific. Aaron Ulis was fabulous, Tony Perkins was out there fighting, Joe T. was good until he got poked in the eye.
"It was our depth and grit that enabled us to win. When you can play 11 guys in a two-point game, that says a lot about your team."
RANKED ROAD WIN
Today's win was Iowa's first over a ranked opponent on the road since winning at No. 21 Wisconsin on March 2, 2017.
"I told the guys before this game we have never beaten a ranked team on the road since I have been in a Hawkeye uniform so to be able to do that gives us a tremendous confidence, knowing we've been here before," said Garza.
OF NOTE
• All-American Luka Garza netted a game-high 25 points today to surpass Aaron White for second on Iowa's all-time scoring chart trailing only Roy Marble.
• Fran McCaffery tied Lute Olson for the second-most Big Ten wins as an Iowa head coach (92).
• Iowa improved to 8-2 all-time against Rutgers, including a 4-1 mark in games played in Piscataway, New Jersey. The last two Iowa-Rutgers games in Piscataway have both been decided by two points.
• Iowa was credited with a season-high nine blocks.
• Freshman Keegan Murray posted personal bests in scoring (14) and rebounding (9).
• Iowa finished the game making nine of its last 12 field goals over the final 8:57.
• Connor McCaffery injured his right ankle three minutes into the game and did not return.
• Jordan Bohannon sank three 3-pointers today to move past Joe Crispin for eighth place in the Big Ten's career 3-point field goals made list.
UP NEXT
The Hawkeyes return to the East Coast on Thursday at Maryland. Tipoff is scheduled for 6 p.m. (CT) at the Xfinity Center in College Park, Maryland.