By DARREN MILLER
hawkeyesports.com
IOWA CITY, Iowa — Jaydin Eierman hasn't wrestled a match in a University of Iowa singlet, but the transfer from Missouri already possesses a Hawkeye mindset.
The three-time All-American talks of winning an NCAA championship and an Olympic gold medal. Then there is this: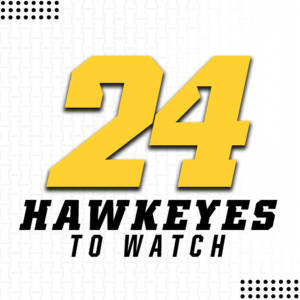 "We are going to try to break the (NCAA Championship) scoring record," Eierman said. "If we wrestle to the best of our ability, we are going to shock the nation."
Sure sounds like a Hawkeye.
Eierman reinforces an Iowa lineup that graduated 149-pound All-American Pat Lugo, but returns nine All-Americans, including Max Murin at 141. Murin projects to move up a weight, allowing Eierman to compete at 141, where he has placed third (2019), fourth (2018) and fifth (2017) nationally.
"Jaydin being in our room makes us better. Him being in our lineup is instant credibility because of his history of results," Iowa head coach Tom Brands said. "He is a good wrestler; he wants to be a great wrestler and he wants to be an icon in the sport."
As a redshirt sophomore and junior, Eierman advanced to the national semifinals, but lost to eventual champion Yianni Diakomilhalis of Cornell, 6-4 in sudden victory (2018) and 6-5 (2019).
"It hurt, but I have to work on my things every day and I feel this year I will be the one with a target on my back," Eierman said. "I'm at Iowa now and they know I will be one of the best in the country."
Eireman was pretty good at Missouri, too. During his redshirt season of 2015-16, he went 22-2 with eight falls and six technical falls at 133. His first season in a varsity lineup, Eierman shared the team lead with 29 wins, won the first of three Mid-American Conference individual titles and placed fifth in the nation at 141. He was named MAC Freshman of the Year.
As a sophomore, Eierman won 32 of 35 matches, finished fourth at the NCAA Championships and was named MAC Wrestler of the Year. As a junior in 2018-19, he was 28-4, third in the nation and again was named MAC Wrestler of the Year.
"We are going to try to break the (NCAA Championship) scoring record. If we wrestle to the best of our ability, we are going to shock the nation."

Jaydin Eierman
"We knew about Jaydin Eierman and we knew about his potential," Brands said.
But Eierman questioned if staying at Missouri was best for his development. In the fall of 2019, he competed at the U23 Senior World Championships in Budapest, Hungary. He opened with a win over Abolfazl Hajipouramiji of Iran, but in the next match, was eliminated by Ernazar Akmataliev of Kyrgyzstan. Eierman thought he was the guy to beat at 65kg, but something was lacking. A move was in order and the destination was Iowa City, Iowa.
"I knew this was the place I needed to be to get my toughness up and my shape to where I could go hard for seven minutes," Eierman said. "This is where I felt the coaching staff could take me to new levels to achieve my goal of winning the Olympics."
Eierman has yet to compete in Carver-Hawkeye Arena, but he has made two competitive trips inside Xtream Arena & GreenState Family Fieldhouse in Coralville. Because of a coronavirus quarantine, he had about a month to prepare for the U.S. Senior Nationals, where he went 5-2 and finished fifth. At the Hawkeye Wrestling Club Showdown Open on Nov. 1, he used two second period takedowns to defeat 2016 Olympic champion Vladimer Khinchegashvili, 4-1.
"I performed well (at Senior Nationals), but I knew I wasn't where I wanted to be," Eierman said. "We had three weeks after the Open to get ready for the Khinchegashvili match. I was in there every morning at 6:30 with (Iowa associate head coach) Terry (Brands) and again in the afternoon to build my shape to where I wanted to be. Finally, it paid off."
The win over Khinchegashvili is a highlight of Eierman's career, a career that looks to have several more milestone victories before it ends.
"It got me over the hump of making myself believe I'm right there with the best in the world," Eierman said.
Eierman's mother, Heather, got him involved in wrestling at the age of 4, partly to honor the memory of his uncle, Jared Selsor. Eierman's father, Mike, wrestled for Nebraska and trained with Terry Brands at the Olympic Training Center in Colorado Springs, Colorado.
By the time Eierman was 6, he was traveling the country, searching for the biggest tournaments and best competition.
"I got to experience a lot in life with wrestling," Eierman said. "I made a lot of friends over the years."
At Tolton (Missouri) High School, Eierman went 158-0, becoming the state's second undefeated, four-time state champion. He was a two-time Fargo All-American. After winning 89 collegiate matches at Missouri — 14 coming at the NCAA Championships — Eierman made a move north. It has made Iowa's powerful program more powerful.
"We have even better depth now," Brands said. "You know you're getting someone that likes to wrestle like we define wrestling and that's year-round. It's not just about college wrestling, it's about international wrestling as well. That is important to us."
Eierman's wrestling style is all Hawkeye, so is his attitude.
"I try to go hard for seven minutes, put up points and break my opponent," he said. "I feel that's how Iowa wrestling is. I fit in perfectly."
Before the 2021 collegiate season begins, it might be time for a history lesson. Write this down, Jaydin, the NCAA Championship scoring record is 170 points, set by Dan Gable's final Iowa team in 1997.
It is a number Eierman and the Hawkeyes have in their sights.