By JAMES ALLAN
hawkeyesports.com
COLLEGE PARK, Md. – Fueled by 35-7 run to close out the first half, the fifth-ranked University of Iowa men's basketball team cruised to their 10th victory — an 89-67 road win at Maryland on Thursday night at the Xfinity Center.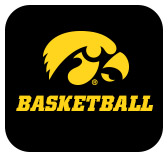 After the Terrapins jumped out to a 6-0, 12-4, and 17-7 leads over the game's first six minutes, the Hawkeyes exploded and didn't look back, giving senior Luka Garza a victory in his final return to the DMV.
"This means the world, it took me three tries, but credit to Maryland, they're a great team and are a great program," said Garza. "I am excited I was able to get it done here and bring one home from the DMV."
After Aaron Wiggins' second-chance layup gave the Terrapins a 19-9 lead, Iowa reeled off 20 unanswered points to take control. The spark came from the reserves.
Connor McCaffery and Jack Nunge started the run with consecutive 3-pointers before Iowa tied the score at 19 on a second chance Nunge layup. After Patrick McCaffery's layup gave the Hawkeyes a 21-19 lead, Luka Garza made two quick buckets, Keegan Murray had a flush and Patrick McCaffery's turnaround made the score 29-19 with 4:23 left in the first half.
"We went to the zone and the zone was active and we were challenging their shooters," said head coach Fran McCaffery. "Our activity level and length got us going and we got some fast break opportunities. It was fun to watch those young guys perform as well as they did, but it all started with the energy level they played with.
"The more stops we got, the more energy they got, and the bench was so into the game. I am so proud of the guys that were taken out, the way they responded to that group that was in there."
The Hawkeyes pushed their lead to 44-26 at the buzzer on a Murray layup at the buzzer to conclude a first half where Iowa shot 51.4 percent. Garza scored 17 of his game-high 24 points in the opening 20 minutes. He made 9-of-14 field goals and grabbed seven rebounds.
After Maryland cut into the deficit, getting to within 12 at 46-34 with 17:14 reeled off a 10-2 spurt to push the lead to 20. Iowa's lead ballooned to as many as 26 on Patrick McCaffery 3-pointer with 6:39 to play.
Senior Jordan Bohannon made five 3-pointers in the second half and six for the game to finish with 18 points. Keegan Murray scored 12 points and Patrick McCaffery had 10. Ten different Hawkeyes scored.
Iowa shot 53.7 percent from the floor and 50 percent (13-of-26) from 3-point range. Iowa was +5 on the glass and assisted on 22 of its 36 field goals with 10 assists coming from Connor McCaffery.
Maryland, which shot 43.3 percent, was led by Wiggins, who scored 17 points.
CONNOR RETURNS
After missing all but three minutes in the road win at Rutgers, Connor McCaffery was spectacular in his return to the court from his ankle injury. The redshirt sophomore finished with 10 assists (without a turnover) and had six points and five rebounds in 26 minutes.
"He's a worker. He has a high basketball IQ," said Bohannon. "Anytime you have a guy out there that knows how to play the game of basketball, it's going to benefit your team greatly. We missed him when he went out against Rutgers and we rallied behind that and had guys step up. We knew when he came back for this game we were going to get back to that flow."
It was McCaffery's career high in assists. His previous high was eight on three separate occasions.
"He's a critical component to making everything work," said Fran McCaffery. "He provides a level of toughness, and he moves it. Defensively, he's always communicating and helping the young guys. I can't say enough about all the great things he does."
JBO FOR 3
Bohannon made one 3-pointer in the first half. Then he went off, making five more in the second half, making him 6-for-9 for the game. The Marion, Iowa, native made a career-high eight 3-pointers at the Xfinity Center in 2017.
"My strength coach, coach (Bill) Maxwell, came up to me in pregame and said, 'You know what you did here as a freshman year? You know you have to get to seven or eight again,'" said Bohannon. "If I am feeling it, I am going to shoot it, but I wasn't getting a lot of looks in the first half. My guys kept telling me to get open and they're going to find me. I got a couple of transition 3s and got off and running in the second half."
OF NOTE
• Iowa's 89 points are the most Iowa has scored in the 12-game series. The 22-point win is the largest margin of victory in the series.
• All-American center Luka Garza returned for his final collegiate game near his hometown of Washington, D.C. tonight. Garza finished with 24 points, seven rebounds, and four assists. The senior netted eight straight points in the first half.
• Iowa improved to 7-0 when Jordan Bohannon makes multiple 3-pointers. Bohannon (18 points) made a game-high six triples tonight.
• Two Hawkeyes posted career bests tonight. Connor McCaffery dished out 10 assists (0 turnovers), while Joe Toussaint was credited with six steals.
• The Hawkeyes sank 13 triples tonight. Iowa, who leads the Big Ten in 3-pointers made, has drained 10+ 3-pointers in eight of 11 games this season.
• Iowa scored 20 straight points spanning 8:28 in the first half. Furthermore, the Hawkeyes scored 35 of the final 42 points over the last 12:51 (35-7 run).
• Tonight was Iowa's second win inside the Xfinity Center (2017, 2021).
• Today was the only regular season meeting between Iowa and Maryland.
UP NEXT
No. 5 Iowa returns to action on Sunday when the Hawkeyes will have a rematch against Minnesota. Tipoff is scheduled for 1:33 p.m. (CT) on Mediacom Court at Carver-Hawkeye Arena.