By SHANE STURTZ
hawkeyesports.com
IOWA CITY, Iowa – For the first time in 43 home games, the University of Iowa women's basketball team lost inside Carver-Hawkeye Arena. The Hawkeyes (8-3, 4-3) fell to 15th ranked and unbeaten Ohio State (7-0, 3-0), 84-82, in overtime on Wednesday.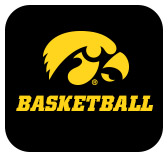 Iowa's last home loss was against Nebraska, 92-74, on Jan. 28, 2018. The three-year, 42-game home-winning streak was the second-longest in school history.
"It's significant," Iowa head coach Lisa Bluder said. "It had been almost three years. I feel like we let a lot of people down. We let down the fans. We let down the people who played her the last three years. We will start a new one Monday night."
Led by freshman Caitlin Clark's 13 first-quarter points and four first-quarter 3-pointers, Iowa jumped out to a 26-17 lead. The Hawkeyes led by as many as 12 in the first half and 14 early in the second half, but Ohio State's full-court press was the difference-maker.
Eighteen Iowa turnovers, including six in the fourth quarter, led to 26 Ohio State points.
"Turnovers were the biggest thing," said Clark, who scored a game-high 27 points and registered her third career double-double with 10 rebounds. "We made some bad decisions on the press break. Some of the shots we usually make didn't go down. All of that added up."
A 9-0 third-quarter Buckeye run trimmed Iowa's led to 49-46 with 4:57 left in the third. Still, Iowa led 59-54, heading into the fourth quarter.
With 1:29 left in the game, Ohio State took its first lead since the first quarter, 72-71, on a Gabby Hutcherson 3-pointer. Redshirt sophomore Kate Martin made 1 of 2 free throws after getting fouled on a loose ball to send the game to overtime.
Iowa jumped to a 78-74 lead in overtime after back-to-back layups by junior Monika Czinano. The following Iowa possession, Czinano was called for her fifth foul on an offensive foul, and Ohio State answered with a 6-0 run to take an 80-78 lead.
Down 84-82 with 19 seconds left, a Clark desperation 3-pointer misfired after the initial play broke down as time expired.
OF NOTE
It was Iowa's first overtime game of the season.
Iowa was 15-of-24 from the free throw line.
The Hawkeyes were 7-of-15 from downtown in the first half, but 0-for-7 in the second half.
Ohio State outscored Iowa, 52-34, in points in the paint.
Sophomore McKenna Warnock registered her second straight and sixth career double-double with 14 points and 12 rebounds.
Czinano's streak of 18 games in double digits was snapped. She finished with nine points and five rebounds.
UP NEXT
Iowa plays Purdue at Carver-Hawkeye Arena on Jan. 18 at 3 p.m. (CT). The game will be televised on BTN.