IOWA CITY, Iowa – University of Iowa redshirt junior Izaya Fullard has been named a preseason All-Big Ten selection by Perfect Game, it was announced Thursday.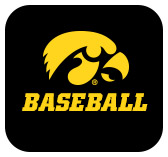 Fullard, an infielder from North Liberty, Iowa, hit .400 with a team-best 21 RBIs and 19 runs scored in the Hawkeyes' shortened 2020 season. He ranked in the top 15 in the Big Ten in seven categories, sitting first in RBIS, second in runs, tied for fifth in batting average, tied for sixth in total bases (35), ninth in slugging (.583) and 15th in on-base percentage (.449).
Fullard's production also saw him rank in the top 29 nationally in three categories, sitting 18th in RBIs per game (1.40), 25th in RBIs, and 29th in runs per game (1.27).
In two seasons in Iowa City, Fullard is a .328 hitter with 11 doubles, one triple and seven home runs. He has 52 RBIs and 51 runs scored in 67 career games.
The Hawkeyes return all nine positional starters and their designated hitter from the 2020 team that posted a 10-5 record with three victories over ranked opponents. Redshirt junior Duncan Davitt returns as the lone weekend starting pitcher.
The 2021 schedule has not been finalized. It will be released once available.