By SHANE STURTZ
hawkeyesports.com
IOWA CITY, Iowa – It was déjà vu for the University of Iowa women's basketball team (9-4, 5-4), who dropped its second game of the season to No. 23 Northwestern (9-3, 7-3), 87-80, inside Carver-Hawkeye Arena on Thursday night.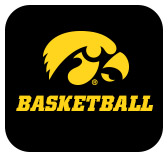 Junior Monika Czinano led the Hawkeyes and bested her career high of 28 points set in Iowa's last meeting against the 'Cats with 34 points on 17-of-19 shooting. Czinano made her first 15 field goals is believed to be a Big Ten single-game record and was two field goals shy of tying an NCAA record for consecutive makes.
"I knew going into this game, using our bigs was going to be a critical part of this game," Czinano said. "It was having that mentality, knowing I would need to do a little bit more. You can only make that field goal percentage when your teammates are finding you."
Czinano's 17 made field goals tied a Carver-Hawkeye Arena record and were two shy of a school record.
Despite the record-breaking night from Czinano, the turnover bug, like the first matchup, was too much to overcome for Iowa. The Hawkeyes committed a season-high 23 turnovers, including 14 in the first half.
"It's hard to win games with this many turnovers," head coach Lisa Bluder said.
The Hawkeyes, however, trailed by only four points at the half, 33-29, with freshman Caitlin Clark playing only eight first-half minutes due to two fouls in the first 20 minutes of play.
Northwestern scored the first two points to start the second half, but then the Hawkeyes rattled off 11 straight points to give Iowa a 42-35 lead three minutes into the third quarter, forcing a Northwestern timeout.
Clark began Iowa's turnaround with a four-point play after getting fouled on a deep 3-pointer, and sophomore Gabbie Marshall drained a deep 3 of her own to swing the momentum in Iowa's favor.
"Basketball is a game of runs," Clark said. "We went on a run. We knew they were going to strike back – they're a great basketball team. That's why they're ranked."
A Czinano layup gave Iowa its largest lead of the game, 52-43, with just under four minutes to play in the third, but then Northwestern's Lindsey Pulliam started to take over.
The Wildcats ended the third on a 14-4 run, with seven of Pulliam's 20 points coming in that stretch.
Trailing 57-56 to start the fourth quarter, Czinano scored Iowa's first eight points to give the Hawkeyes a 64-59 lead two minutes into the fourth.
Junior Tomi Taiwo and Clark sank clutch 3-pointers as Iowa tried to fend off Northwestern's comeback. With 3:27 left to play and Iowa clinging to a one-point lead, 72-71, the Wildcats started to gain control of the game from the free throw line.
Northwestern went to the free throw line 26 times in the fourth, converting 13 freebies, while Iowa was 2-of-4 from the foul line in the final frame. The Wildcats scored 11 of their last 16 points from the free throw line to escape Iowa City with a seven-point win.
OF NOTE
Czinano registered her second double-double of the season (34 points, 11 rebounds).
Czinano and Clark combined for 57 of Iowa's 80 points. Clark scored 14 of her 23 points in the third quarter, going 3-for-4 from behind the arc in the third.
Clark has scored 20+ points in all but two games this season.
Clark dished out a game-high eight assists.
Sophomore Mckenna Warnock recorded a career-high seven assists, while also adding 14 rebounds. Warnock has grabbed 12+ rebounds five times this season.
Redshirt sophomore Kate Martin scored eight of her 10 points in the first quarter.
UP NEXT
The Hawkeyes head to Minneapolis, Minnesota, to face the Minnesota Gophers inside Williams Arena on Sunday at 4 p.m. (CT)and will be streamed live on BTN Plus.