By JAMES ALLAN
hawkeyesports.com
CHAMPAIGN, Ill. – It was a game that lived up to the entertainment factor, but it was No. 19 Illinois that ended on top as the Fighting Illini downed the seventh-ranked University of Iowa men's basketball team, 80-75, on Friday night at the State Farm Center.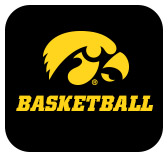 In a seesaw game that had eight ties and a whopping 22 lead changes, the Illini scored nine of the final 12 points to snap the Hawkeyes' three-game Big Ten road winning streak.
"We had stretches where we could have won this game, and we know that and we reflect on that, and that's unfortunate," said senior Luka Garza. "We only get to see them once and hopefully we'll get to see them in the Big Ten Tournament or past that.
"We did some good things and were right there."
Iowa took a 72-71 lead on a Joe Wieskamp 3-pointer with 2:42 remaining before Jacob Grandison answered just 19 seconds later to put Illinois up 74-72.
After two Andre Curbelo free throws pushed the lead to four, the Hawkeyes appeared to trim the lead to a field goal with 73 seconds remaining when Kofi Cockburn was whistled for goaltending, but video replay took the points off the board as it was ruled a block. Iowa left the possession empty-handed following a turnover.
"It's frustrating looking back, even if it is a block, I got the rebound and put it right back in," said Wieskamp. "I don't know if the ref blew the whistle, but either way, it's on them and it should have been two points on the first one or second one. We should have been down two with a minute left, so that's definitely frustrating there."
After two Trent Frazier free throws pushed the lead to six, Jordan Bohannon drilled a 3 (78-75) with 12 seconds left and Iowa's defense forced a five-second call to give Iowa a last chance. Following a timeout, Bohannon was called upon again, but his contested 3 drew front iron.
Cockburn grabbed the rebound and was fouled. After he missed the front end of the 1-on-1, he got his own miss and was fouled again before making both free throws to seal the victory.
Illinois had a higher field goal (50 to 43.1) and 3-point field goal (42.1 to 40) percentage and they made 11 more free throws (14 to 3) in the game. The Illini out-rebounded Iowa, 39-33.
Senior Luka Garza and Wieskamp paced the Hawkeyes with 19 points. Junior Connor McCaffery finished with a season-high 11 points and five assists, while Keegan Murray scored eight points and had a team-high eight rebounds in his first career start.
Ayu Dosunmu and Frazier combined for 49 of Illinois' 80 points. Dosunmu scored 25 points on 11-of-18 shooting, while Frazier scored 24 with four 3-pointers.
QUOTING HEAD COACH FRAN MCCAFFERY
"We played two good teams, we did a lot of good things and we'd like to have Luka out there the whole time. I am proud of Jack and Keegan and Tony and Patrick, they were good. We were in a position to win and Luka hardly played, and that's unfortunate. Other guys have to grow up and they did."
OF NOTE
• Tonight's loss snapped Iowa's three-game Big Ten road win streak.
• Tonight was the only regular season contest between Iowa and Illinois.
• Joe Wieskamp and Luka Garza led the Hawkeyes with 19 points each. Wieskamp tied a career high with five 3-pointers (North Carolina).
• Connor McCaffery surpassed his season high in scoring the first eight minutes of the first half. McCaffery finished the contest with 11 points.
• Jordan Bohannon dished out a team-best five assists tonight, surpassing Andre Woolridge for second on Iowa's career assists chart.
UP NEXT
The Hawkeyes return to action Tuesday, hosting Michigan State on Mediacom Court inside Carver-Hawkeye Arena.