By JAMES ALLAN
hawkeyesports.com
IOWA CITY, Iowa – It was Luka Garza and the Hawkeye reserves that led the eighth-ranked University of Iowa men's basketball team to an 84-78 victory over Michigan State on Tuesday night on Mediacom Court inside Carver-Hawkeye Arena.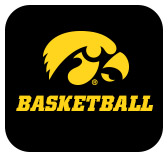 Garza was Garza, finishing with a game-high 27 points on 9-of-18 shooting and 12 rebounds for his eighth double-double of the season. The Hawkeye bench was the difference, as the six reserves combined for 39 points, 19 rebounds, and eight assists.
"The bench was huge, I am so proud of those guys," said Garza. "Throughout the whole game, they were making plays, first half, second half, they gave us a lift and were giving us energy."
Redshirt sophomore Jack Nunge scored 12 points, including 11 in the first half, helping Iowa erase an 11-point deficit. Sophomore Joe Toussaint had 10 points on 3-of-5 shooting and six assists (to one turnover), Keegan Murray scored seven points and the trio of Patrick McCaffery (four points), Tony Perkins (four points), and Aaron Ulis (two points) combined for 11.
The Spartans came out on a torrid pace, making their first six 3-pointers to build a 26-15 lead eight minutes in. With a lineup consisting of Patrick McCaffery, Toussaint, Perkins, Nunge, and Garza, the Hawkeyes had the lead trimmed to 28-23 at the 8:41 mark.
Iowa got to within two at 32-30 and climbed all the way back to tie the game at 38 on two Garza free throws. The Hawkeyes closed out the first half on a 16-6 run to take a 48-43 lead into the break.
"We had that lineup on the floor that clicked," said head coach Fran McCaffery. "It wasn't like I came into the game and said I was going to go with this lineup. That lineup was on the floor and they played well together. That's what you need, you have to be able to do that."
Iowa pushed its lead to eight points early in the second half, but the Spartans battled back to tie the game at 57, 59, 61, and 63 with 10 minutes to play. The Hawkeye reserves took over.
Patrick McCaffery's fast-break layup (on an assist from Toussaint) game Iowa a 65-63 lead, Toussaint followed with back-to-back jumpers, Murray made two free throws, and Perkins' driving layup made the score 73-68.
The Hawkeyes pushed their lead to 79-70 with 3:37 left on a Garza layup, but the Spartans wouldn't go away. Michigan State got to within a field goal at 80-78 and had a chance to tie or take the lead with 24 seconds to play, but Josh Langford's pull-up jumper rattled off the rim.
Senior Jordan Bohannon then iced the win with four free throws in the final 15 seconds.
The Hawkeyes shot 50 percent from the field (28-of-56), but went just 5-of-17 from 3-point range (two of the makes were from Nunge). Iowa shot 35 free throws (but missed 12). The Spartans shot 40 percent, made 12 3-pointers, and were +4 on the glass.
Aaron Henry paced the Spartans with 24 points and nine rebounds.
QUOTING HEAD COACH FRAN MCCAFFERY
"I don't know how many times I have looked at a stat sheet and seen 39 bench points, that's incredible. We missed some shots early with the first group and they came back and gave us quality minutes after that, but we have a team where we can go deep into our bench and get productivity. We got rebounds, points, and solid play. It was great to see Joe T. with six assists and one turn."
2K FOR 55
Garza surpassed the 2,000-career point mark, becoming the second Hawkeye all-time to reach the mark.
"It feels better that it came in a win like this," said Garza. "I am lucky to have been a part of this program. I am lucky coach Fran gave me an opportunity to come to the University of Iowa and he believed in me when some coaches didn't."
Garza now has 2,009 points, 107 points behind Roy Marble's school record.
"To hear him mentioned in the same sentence as Roy Marble, I coached against Roy and watched him play," said Fran McCaffery. "We became good friends after I got here and I had the opportunity to coach his son, one of my favorite players ever.
"I wish Roy was here to see it. He would have been a big Luka Garza fan and he would have gone out and given him a big hug when he broke the record. Two thousand points is amazing and it's a testament to his character and consistency. When you think about who he's doing it against, that makes it even more impressive."
OF NOTE
• All-American Luka Garza had his team-leading eighth double-double of the season and 28th of his career. Garza eclipsed 2,000 points and 800 rebounds tonight becoming the first Hawkeye in program history with those minimums.
• Garza reached 2,000 points in 113 games, faster than any other Big Ten player over the last 25 years (Indiana's A.J. Guyton, 122; Wisconsin's Alando Tucker, 124; Penn State's Talor Battle, 124; Penn State's Lamar Stevens, 125; Northwestern's John Shurna, 129; Wisconsin's Ethan Happ, 130).
• The Hawkeyes totaled a 39 bench points tonight, its highest total in a Big Ten contest this season.
• Joe Toussaint provided a spark off the bench recording 10 points and a game-best six assists; he reached double figures for the second time this season.
• Iowa's last win over Michigan State inside Carver-Hawkeye Arena came on Dec. 29, 2015.
UP NEXT
Iowa returns to action Thursday, hosting No. 7 Ohio State in Iowa City. Tipoff is set for 6 p.m. (CT).