By JAMES ALLAN
hawkeyesports.com
IOWA CITY, Iowa – No. 7 Ohio State rallied from an 11-point second-half deficit to hand the eighth-ranked University of Iowa men's basketball team an 89-85 loss Thursday night on Mediacom Court inside Carver-Hawkeye Arena.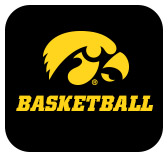 The Hawkeyes extended their three-point halftime lead to 53-45 early in the second half courtesy of 3-pointers from Joe Wieskamp and Connor McCaffery and a Keegan Murray dunk. The lead then went to double-digits with 14 1/2 minutes to play following 3s from Wieskamp and Luka Garza.
The Buckeyes followed with seven points in 50 seconds to get within four and the run continued to 11-2, trimming the deficit to 63-62 with 11:50 left. The Buckeyes regained the lead on a Kyle Young jumper with 10 minutes to play and the game was in the balance until Ohio State went on a 3-point barrage.
The Buckeyes hit four 3-pointers – three by Justin Ahrens – in a two-minute stretch to open an 88-81 lead with 2:39 to play.
"It's tough looking back at that point in the game, we came out and had a good start to the second half and got things going," said Weiskamp. "They got things going, Washington got hot and we didn't do a good job of stopping their run, identifying their guys that were going and making a run of our own. We played with them instead of putting our foot on the gas at that point."
Both teams hit 14 3s on 32 attempts, but Ohio State had a higher field goal percentage (47.7-to-44.1) and Ohio State won the rebounding battle, 43-36. Iowa finished with 20 assists and just six turnovers in the game.
"They are a great 3-point shooting team, they stretch us out defensively," said Jack Nunge. "When we were in that 2-3 zone, even if they step back, we have to close out and take the rhythm away from them."
Senior Jordan Bohannon and Nunge paced Iowa with 18 points, Wieskamp posted a double-double with 17 points and 10 rebounds, and senior Luka Garza had 16 points, seven rebounds, and five assists.
Ohio State also had four players in double digits with Washington, Jr., Young, and Liddell scoring 16 points apiece.
QUOTING HEAD COACH FRAN MCCAFFERY
"We did some good things, we played a good team, but we have to do better in crunch time."
OF NOTE
• Jack Nunge tied a personal best with 18 points, reaching double figures for the third time in five contests. The redshirt sophomore sank a career-best four 3-pointers.
• Joe Wieskamp recorded his second double-double in four games and sixth of his career (17 points, 10 rebounds). Wieskamp sank four treys, marking the fourth time in six games the junior has made three 3-pointers or more.
• Luka Garza totaled 16 points, seven rebounds, and a career-high five assists.
• Jordan Bohannon sank four 3-pointers, moving into the top five all-time in Big Ten history with 330 triples. The redshirt senior finished with 18 points.
UP NEXT
Iowa returns to action Sunday against Indiana in Bloomington. Tipoff is set for 11 a.m. (CT) at Assembly Hall.