By JAMES ALLAN
hawkeyesports.com
BLOOMINGTON, Ind. – Aarman Franklin's step back 15-footer with 1.6 seconds left lifted Indiana to a 67-65 victory over the eighth-ranked University of Iowa men's basketball team on Sunday afternoon in Assembly Hall.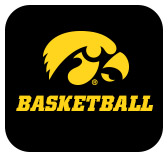 Iowa went on a 10-0 run early in the second half to take a 45-35 with freshman Keegan Murray keying the run with the first seven points. The Hoosiers answered with a 9-0 run to close to within 45-44 before Jordan Bohannon scored five straight to push the lead to six with 10:54 to play.
Indiana fought back to tie the game at 53, the first of five ties in the final six minutes. The Hawkeyes led 61-58 with 2:08 left before Rob Phinisee drained a 3-pointer to tie the game at 61 with 1:39 to play.
The Hoosiers pushed their lead to 65-62 with 40 seconds left before Bohannon's step-back 3-pointer tied the game with 27 seconds left. Then Franklin hit the game-winner.
"We had the right guy on him," said head coach Fran McCaffery of Wieskamp. "Weisy has size, and it's a tie game and the last thing he wants to do is foul. He wants to make him make a contested, tough two. You have to tip your hat to him, he made it."
Wieskamp and senior Luka Garza led Iowa with 18 points apiece, but Garza only played 27 minutes after missing the final 12 minutes of the first half with two fouls. Bohannon finished with 11 points and seven rebounds, while Murray scored 10 points.
Iowa shot 37.3 percent from the floor and limited the Hoosiers to 35.9 percent shooting. The Hawkeyes made eight 3-pointers (compared to six for Indiana), but the Hoosiers were +8 on the glass, including 15 offensive rebounds.
The Hawkeyes got off to a fast start in the game, building a 17-4 lead seven minutes in. Indiana trailed for a majority of the first half until closing the half on a 9-0, turning a 31-24 deficit into a 33-31 halftime lead.
Trayce Jackson-Davis led the Hoosiers with 17 points and 12 rebounds.
QUOTING HEAD COACH FRAN MCCAFFERY
"The game was in the balance, the kid hit a tough step back. We had opportunities. We had a lead in the second half, we had wide open 3s that were good shots that didn't go. Coming down the stretch we went to Luka, and he was scoring and getting to the free throw line. The kid hit a tough, contested 3 behind
OF NOTE
• Jordan Bohannon tallied 11 points moving past 1,500 career points. He made three triples to move into third place in all-time 3-pointers made in Big Ten history surpassing Shawn Respert (MSU) and Pete Lisicky (PSU). Bohannon also tied a career high with seven rebounds.
• Joe Wieskamp sank three treys, marking the fifth time in seven games the junior has made three 3-pointers or more.
• Starting guard CJ Fredrick did not play (lower leg injury).
UP NEXT
Iowa returns home to host Rutgers on Wednesday. Tipoff is slated for 6 p.m. (CT) on Mediacom Court at Carver-Hawkeye Arena in Iowa City. The game will be televised nationally on the Big Ten Network.