IOWA CITY, Iowa – University of Iowa All-Big Ten third baseman Ed Garton passed away suddenly on Feb. 9 in Florida. He was 61.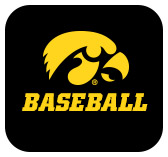 Garton, who played for the Hawkeyes from 1978-81, earned first-team All-Big Ten honors in 1981. He enjoyed a breakout junior season, leading the team in hits (75), RBIs (76), doubles (15) and home runs (10). Garton still ranks fifth all-time in single-season RBIs and 19th in hits.
The New Jersey native helped Iowa to a school-record 44 victories during the 1981 season. The Hawkeyes finished third in the Big Ten Conference West Division and the program won 107 games in his three seasons in Iowa City.
Following the 1981 season, Garton signed a professional contract after being selected in the 18th round of the Major League Baseball Draft by the New York Mets.
Garton joined the Hawkeye program out of New Jersey where he attended Washington Township High School.
Visitation will be held Feb. 20 at noon at Meadowlawn Funeral Home and Memorial Gardens in New Port Richey, Florida. Celebration of Life will be held at 2 p.m.