By STEVE ROE
hawkeyesports.com
EAST LANSING, Mich. – – Joe Wieskamp and Jack Nunge led a balanced and efficient offensive attack as the 15th-ranked University of Iowa men's basketball team scored a dominating 88-58 victory at Michigan State on Saturday afternoon inside the Breslin Center. The win improves the Hawkeyes to 15-6 overall and 9-5 in Big Ten play.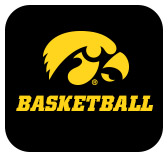 The season sweep of the Spartans is the first for Iowa since 2015 and it marks just the fourth Hawkeye win in 27 games at the Breslin Center. The 30-point win is Iowa's largest margin of victory ever in games played in East Lansing, and Iowa's 88 points are the most points scored at Michigan State since 1993 (96-90 OT).
Nunge matched his career-high for the fourth time with 18 points, hitting 7-of-11 field goal attempts (1-of-2 treys) and all three free throws. He added a career-best 11 rebounds for his first double-double of the season and second of his career and added a career-high six assists in 26 minutes.
Wieskamp collected five 3-point field goals, marking the seventh time in nine games he has made three 3-pointers or more. He has made a season-best five three-pointers in four games. Weiskamp ended the afternoon with 21 points, seven rebounds and three assists. Junior Connor McCaffery added a career-best four treys while scoring a season-best 16 points, making 6-of-8 field goal attempts.
The Iowa defense also played well in limiting the Spartans to 58 points. Michigan State shot just 35.5 percent from the field (6-of-21 treys) and made 8-of-16 free throws. Iowa held a 46-37 rebounding advantage and Michigan State was held to 12 fast-break points and 13 second-chance points.
"I thought to a man defensively today, we really competed," said head coach Fran McCaffery. "We didn't give up as many opportunities in transition and that starts with your offensive execution and productivity. The defense has been a lot better, and, obviously, hopefully, that will continue."
Michigan State scored the first four points of the game before Garza got the Hawkeyes on the board with an offensive put back and free throw. A 3-pointer by Keagan Murray tied the game at six before Jordan Bohannon's trey gave Iowa a 9-7 advantage.
Shooting accuracy was a key for Iowa in the first half as the Hawkeyes shot 53.3 percent from the field (16-of-30), 61.5 percent from 3-point range (8-of-13), while adding 6-of-9 free throws. The Hawkeyes connected on five of their first seven 3-point attempts and seven of their first 10. A Wieskamp trey gave Iowa a 26-13 advantage with 11:49 remaining in the half.
Seven Hawkeyes scored and five players connected on at least one 3-pointer in the opening half. Nunge contributed seven points and six rebounds in 12 first-half minutes.
The Spartans scored the first four points of the second half as well before Weiskamp took over. Weiskamp hit consecutive treys after Iowa had missed it first four field goal attempts of the half. Nunge added a conventional three-point play and Connor McCaffery hit a 3-pointer to expand the margin to 58-31 with just over 15 minutes to play.
The Hawkeyes recorded 24 assists on their 32 made field goals and were guilty of just five turnovers. Senior All-American center Luka Garza and Murray each scored eight points, with Garza adding eight rebounds in just over 23 minutes of action.
QUOTING HEAD COACH FRAN MCCAFFERY
"It started with tough intense man-to-man defense, then it goes to execution on offense so that if we at least get a good shot and if we don't make it, we got our defense back. We don't give them transition baskets or second shot opportunities. We almost lost to them at our place because we gave them 20 offensive rebounds. They had 40 shots today, and only got 11 of them back. Typically, they're a team that is going to not only get a bunch back with offensive rebounding. Our defense, our rebounding and our offensive execution and the productivity off the bench. Everyone that came in, really contributed."
OF NOTE
• Iowa's 30-point win is its largest margin of victory ever in games played in East Lansing, best an 18-point win (75-57) in 1983.
• Iowa's 88 points are the most points scored at Michigan State since 1993 (96-90 OT).
• Iowa posted just its second regular season sweep over Michigan State since the 1993-94 season (2015-16). Today's win was just Iowa's second in its last 23 games in East Lansing (2016).
• Joe Wieskamp netted a game-best 21 points, leading the team in scoring for the fourth time in Iowa's last six games. Wieskamp topped 20 points for the fifth time this season and 15th time in his career (needs updating).
• Jack Nunge tied a career best with 18 points a posted game and career bests in rebounds (11) and assists (6). Nunge posted the first double-double of the season and second of his career. He reached double figures for the third time in five games.
• Iowa made 13 3-pointers today, including eight in the first half. Wieskamp, who ranks 10th in career 3-pointers at Iowa, sank five treys, marking the seventh time in nine games the junior has made three 3-pointers or more. Connor McCaffery sank a personal best with four triples.
• Jordan Bohannon moved into second place on the Big Ten career 3-pointers list surpassing Penn State's Shep Garner. He is 37 triples from the conference leader, Jon Diebler of Ohio State. Bohannon scored six points moving him into the top 15 in Iowa career scoring. Bohannon registered four assists today making him just the second player in program history with 600 assists (Jeff Horner).
• Guard CJ Fredrick did not play in today's game (lower leg injury).
• Iowa led by as many as 34 points in the second half.
UP NEXT
Iowa's next contest will be at Wisconsin on Thursday. Tipoff is slated for 6 p.m. (CT) at the Kohl Center in Madison, Wisconsin. The game will be televised nationally on ESPN.