By JAMES ALLAN
hawkeyesports.com
IOWA CITY, Iowa – Senior Luka Garza became the Hawkeye G.O.A.T. on Sunday afternoon inside Carver-Hawkeye Arena, surpassing Roy Marble as the University of Iowa men's basketball program's all-time leading scorer. Garza led the 11th-ranked Hawkeyes to a 74-68 victory over Penn State – their fourth straight win.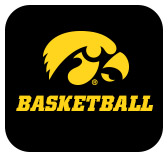 The win moves Iowa to 17-6 overall and 11-5 in Big Ten play heading into week with games scheduled against No. 3 Michigan and No. 4 Ohio State.
Garza became the most prolific scorer in program history with a layup with 8:18 left in the game, giving Iowa a 56-54 lead. It was the first of 10 straight Iowa points, helping Iowa extend the lead to 64-56 with 5:51 to play.
"It was fitting for me to be able to pass him the ball on a pick-and-roll and have him break that record," said senior Jordan Bohannon. "I felt it was destined to be for me to be the one to pass it to him and it kind of happened the way it did.
"We did a good job of finding him at important moments tonight and he made the most of it."
Senior Jordan Bohannon's 3-pointer at the 5:28 stretched Iowa's lead to a game-high 11 points and Penn State never got any closer than five points the rest of the way.
Garza finished with 23 points and 11 rebounds, making 8-of-16 field goals and 7-of-11 free throws. He also had two assists and drew 12 fouls in the game. Sophomore CJ Fredrick scored 18 points – 14 in the first half – making 7-of-10 field goals and four 3s, and junior Joe Wieskamp had a double-double with 11 points and 11 rebounds.
Iowa had a higher field goal percentage (44.8 to 35.5) and 3-point field goal percentage (40.0 to 33.3) in the game, but the Hawkeyes went just 12-of-22 from the free throw stripe. Iowa was +11 on the glass (46-35) and had 19 assists on its 26 field goals.
Penn State led 41-36 at the half after shooting 47.1 percent from the floor in the opening 20 minutes. Iowa jumped out to a 19-6 lead in the early going before the Nittany Lions got going, reeling off nine straight to cut the lead to 19-6.
The Nittany Lions tied the game at 25 and then built a 39-33 lead with 51 seconds left in the opening half before taking a 41-36 lead into the break. After being held scoreless in the first half, Wieskamp scored the first nine Hawkeye points in half two.
Iowa trailed 49-42 with 17:10 left. Garza tied the late Roy Marble with a free throw at the 15:12 mark and a Keegan Murray 3-pointer gave Iowa a 51-49 lead with 13:28 left.
Three Penn State players reached double figures with Izaiah Brockington and Myreon Jones leading the way with 11 points apiece.
QUOTING HEAD COACH FRAN MCCAFFERY
"He's an amazingly gifted athlete on so many different levels. It's great to see the recognition he got after the game from all the former players, that meant a lot to him."
AN AIR BALL AND A RECORD
It was all about the game at hand until Garza had a few extra seconds to think about surpassing the record. Garza hit a free throw at the 15:12 mark to tie Marble then came an air ball.
"The moment I started thinking about it was when we called that timeout, I knew that if I hit two, I was going to pass it," said Garza. "That was the moment. The whole first half I was fine and then when I got past that point, I was nervous on the free throw, and after that I calmed down and was able to play the rest of the game.
"The free throw was the only point where I thought I was pressing. I was locked into the game the whole first half and I just missed a couple of jumpers."
Bohannon knew what was at stake when Garza stepped the free throw stripe.
"Everyone knew, especially after he air-balled that free throw," said Bohannon. "That was a little too much in his head when he shot that second free throw and air balled it."
IN A WIN
Garza couldn't fathom talking about himself and the record if the Hawkeyes hadn't found a way to win their fourth straight.
"It wouldn't have felt the same, it felt good to get a win, continue this streak, and have that as a bonus at the end," said Garza. "It wouldn't have felt right without a win. That's why the whole game I was locked in, trying to do what I could to help the team win."
OF NOTE
• Iowa won its fourth straight game.
• Luka Garza broke the program's 32-year old all-time scoring record previously held by Roy Marble (2,116 in 134 games) with a second-half layup at the 8:18 mark. Garza reached the mark 15 games faster than Marble (119 games). The All-American posted his team-leading 10th double-double of the season and 31st of his career (23 points and 11 rebounds).
• Luka Garza, the nation's leading scorer, has netted 20+ 16 times this season and 53 times in his career.
• Joe Wieskamp was Iowa's second player with a double-double (11 points and 11 rebounds), his fourth of the season and eighth of his career. Nine of his 11 rebounds were defensive; he has grabbed seven or more defensive rebounds in seven of the last nine outings.
• Iowa has held its last five Big Ten opponents to 70 points or fewer.
• CJ Fredrick tallied 18 points on 7-of-10 shooting from 3-point range today, his highest total since Dec. 29, 2020 (19 versus Northwestern.
• Iowa held Penn State to only two field goals over the final 12:16 of the second half.
• Iowa improved to 19-4 against Penn State inside Carver-Hawkeye Arena, winning 14 of the last 15 meetings.
UP NEXT
Iowa will travel to Ann Arbor to face nationally-ranked Michigan in the only regular season meeting. Tipoff is slated for 6 p.m. (CT) at the Crisler Center. The game will be televised nationally on ESPN.