IOWA CITY, Iowa — The Big Ten Conference announced Tuesday that Iowa and Penn State are co-champions of the 2021 conference regular season.
The top-ranked Hawkeyes finished the dual season 5-0. Penn State finished with a 6-0 record. Iowa has won or shared the Big Ten regular season title 11 times in the last 14 years, and 13 times since the conference starting recognizing a dual meet champion in 1999.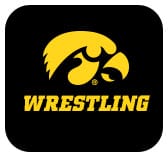 In five conference duals, the Hawkeyes' postseason roster posted a 38-5 record in individual matches, scoring bonus points in 25 bouts. The Hawkeyes have four wrestlers ranked at the top of their respective weight classes, and nine wrestlers ranked fifth or better.
The Hawkeyes return to the mat March 6-7 at the 2021 Big Ten Championships in University Park, Pennsylvania. The two-day tournament is televised live on BTN and streamed at the FOX Sports App. Iowa won the 2020 Big Ten Championships and has won a league-high 36 team titles. Spencer Lee (125) and Alex Marinelli (165) are both defending conference champions. Marinelli also won the conference tournament in 2019.