By DARREN MILLER
hawkeyesports.com
IOWA CITY, Iowa — You may call her a program-changer. Or just Alexa.
Either way, University of Iowa women's tennis fans will know you are referring to freshman Alexa Noel, an amazing talent who is taking the Big Ten Conference by storm. If there is a moral to the story of how Iowa head coach Sasha Schmid recruited Noel, it starts with the coach's wardrobe. Specifically, making sure her Hawkeye gear was visible in public.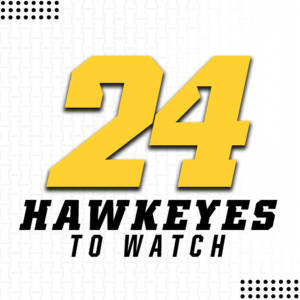 Noel is 14-0 at No. 1 singles and 8-4 at No. 1 doubles and is ranked seventh nationally among preseason newcomers. The story of how Noel ended up at Iowa begins with a trip Schmid took to London in 2019 to recruit players in the pre-qualifying tournament at Wimbledon. Before entering the National Tennis Centre, Schmid, decked out in black and gold with plenty of Tigerhawk logos, heard a familiar "Go Hawks!"
She crossed the street and introduced herself to Brett and Juree Noel, natives of Grinnell, Iowa. Schmid discovered that Brett played football at Coe College and Juree attended the University of Iowa. Like Schmid, Juree majored in political science and the conversation switched to dorm life, the Airliner and getting back to Iowa City for a football game.
"I asked, are you guys here to watch the tennis?" Schmid said. "(Juree) said their daughter was in the tournament. I said, your daughter is in pre-qualifying? They said, 'Actually our daughter is in main draw.'"
That daughter, Alexa, advanced to the finals of the 2019 Wimbledon Juniors Tournament.
Fast forward to 2020 when the coronavirus pandemic brought sporting events to a halt. Noel, who was training in Florida, was on track for a professional career when suddenly there were no tour matches to play.
"My buddy asked what my plans were and whether I was considering college," Noel said. "I hadn't put any thought into it because I was so straightforward on playing pro tennis. I talked to my mom and we were like, oh maybe you could go to college because when is the tour going to come back to where it was before it was shut down?"
Entering college was a quick process — it took around a week from when Noel decided to attend Iowa to when she arrived in Iowa City.
"I didn't give other schools any thought," Noel said. "It was all super out of the blue and there wasn't any other place in my head where I wanted to go."
"I didn't give other schools any thought. It was all super out of the blue and there wasn't any other place in my head where I wanted to go."

Alexa Noel
Noel was born in Scottsdale, Arizona, and moved with her family to Toronto, where she was introduced to tennis.
"It was mostly recreational," she said.
The family moved to New Jersey when Alexa was 8 years old, but still, tennis "wasn't that big of a deal."
Two years later, the sport became a significant part of Noel's life.
"I knew when I was 10 or 11 that this is what I wanted to do," she said. "I didn't know how good I could end up getting or the potential. I knew I wanted to do it and I put a lot of time into it."
In 2019, Noel was ranked as high as No. 4 in the International Tennis Federation (ITF) World Tennis Tour Junior Rankings. She won her first professional tournament at ITF Cancun in 2020 with a 6-3, 6-2 victory over Nika Kukharchuk of Russia.
A graduate of the online Laurel Springs (New Jersey) High School, Noel has made an immediate, program-changing impact with the Hawkeyes. Iowa is 6-2 in Big Ten matches, its best start conference start since going 9-1 in 2006. Noel is unscathed in singles play, even winning one match in 29 minutes.
"Alexa has a complete full-court game," Schmid said. "She can hit any shot, is a great mover, very athletic and has great defense, which puts her in position to be in every match. She has an unbelievable volley, is able to finish at the net, her forehand is big and her serve is big. She is versatile and can hit a lot of slice backhands. She is not one-dimensional in any way."
On Feb. 16, Noel was named Big Ten Women's Tennis Athlete of the Week after singles and doubles wins against Illinois and Northwestern.
The adjustment to college life took time. With no tennis competitions, the fall semester crawled along and then Noel came down with the coronavirus. Things picked up when the tennis season began in January.
"It has been a blast once the season started," Noel said. "I love competition, so it is easy for me to find playing every weekend fun."
Being part of a team was also a change for Noel, who spent most of career as an elite singles player. She enjoys the camaraderie of having teammates by her side and cheering during matches.
Noel describes herself as "very superstitious." She is a big coffee drinker and if Noel is on a winning streak, she will eat the same food until the tournament is over or until she loses a match.
"Thursday night I have to eat the same as I do Saturday because we play Friday-Sunday," Noel said. "The meal just depends, but whatever I choose, I'm committed."
The Hawkeyes hit the road for two matches this weekend. They play at Illinois on March 13 and at Northwestern on March 14. Noel will be in action at the top of Iowa's lineup.
"You talk about recruits that can be program-changers — this is exactly what Alexa is for us—- a complete program-changer," Schmid said. "She is enthusiastic, loves Iowa and loves making our team better."