MINNEAPOLIS – Redshirt sophomore Duncan Davitt scattered two hits over six innings to lead the University of Iowa baseball team to a 3-1 victory over Nebraska on Sunday at U.S. Bank Stadium. The Hawkeyes split their four games in Minneapolis.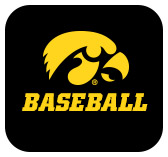 Davitt (1-0) had a no-hitter through 5 1/3 innings before giving up a one-out single in the sixth. He then surrendered a leadoff double in the seventh to end his day. He allowed one run on two hits over six innings, while fanning six.
Iowa's offense had a season-high nine hits and the Hawkeyes put up a three spot in the third. After redshirt sophomore Brendan Sher doubled and redshirt freshman Sam Link walked to start the inning, Ben Norman's RBI single gave Iowa a 1-0 lead.
Senior Matthew Sosa followed with an RBI single to left field to plate Iowa's second run and junior Brett McCleary's safety squeeze pushed the advantage to 3-0.
Nebraska broke on to the scoreboard in the seventh. Leighton Banjoff doubled down the left field line that ended Davitt's day before Jack Steil doubled home a run off Iowa reliever Dylan Nedved.
Nedved settled in, scattering two hits over the final three frames to pick up his second save of the season.
After homering Saturday, Norman tallied his (and Iowa's) first three-hit game of the season. He finished 3-for-4 with an RBI and run scored. Senior Izaya Fullard (2-for-3, 2B) and Sher (2-for-3, 2 2Bs) also had multi-hit games.
Nebraska's Jake Bunz suffered the loss, allowing three runs on five hits over four innings.
QUOTING HEAD COACH RICK HELLER
"On a day we really needed it, Duncan went out and pitched fantastic. It was the best start of his career, he was good today.
"In the first and second inning, we didn't score, but we were barreling balls up. It looked like we had gained some confidence back and guys weren't worrying about the bad day yesterday. They went about their business and we got the three runs and had the opportunity to add to it a couple times.
"We swung the bats a lot better today. It was good to see Ben Norman have three hits and Izaya break out with two hits. Hopefully that's the start of a hot streak for us."
OF NOTE
– Iowa split its four games in Minneapolis, beating Ohio State and Nebraska once each.
– Davitt's six innings were a career high and he tied a career-best with six strikeouts.
– Sher's two doubles were a career-high.
– Sosa extended his hitting streak to a career-high eight games.
UP NEXT
Iowa (3-5) will host Nebraska in its home opening series March 19-21 at Duane Banks Field.