IOWA CITY, Iowa – Four University of Iowa women's swimming and diving student-athletes – senior Kelsey Drake, junior Sam Tamborski, sophomore Mallory Jump, and freshman Alyssa Graves – will compete at the NCAA Championships from March 17-20 in Greensboro, North Carolina.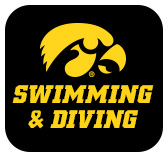 Drake and Jump will get things underway, competing in the 200-yard individual medley on Thursday at the Greensboro Aquatic Center. Jump has the 57th-best time in the event (1:58.93), while Drake has the 67th-best time (1:59.47).
The duo will be in action against Friday, competing in the 100-yard butterfly. Jump's school-record time of 52.30 seconds ranks 31st in the event heading into the championships, while Drake is 50th with a time of 53.19 seconds.
Tamborski will also compete in her third NCAA Championships on Friday, diving off the 3-meter springboard. She is one of 44 entries in the event.
Graves joins the action on Saturday, competing in a pair of events. Drake, Jump, and Graves will all swim in the 200-yard butterfly, and Graves will also complete in the 1,650 freestyle. Drake has the top Hawkeye time in the 200 fly, sitting 41st (1:57.42), while Graves is 43rd (1:57.99) and Jump is 47th (1:58.67).
Graves, a Wisconsin native, also has the 37th-best time in the mile, sitting at 16:21.34.
The 2021 Women's Swimming & Diving Championships will be streamed live on ESPN3. Live results are available at hawkeyesports.com and divemeets.com.