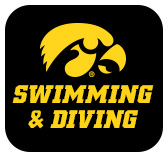 GREENSBORO, N.C. – University of Iowa sophomore Mallory Jump tied the school record in the 100-yard butterfly Friday at the 2021 NCAA Championships at the Greensboro Aquatic Center.
Jump finished with a time of 52.30 seconds, tying her mark that she set earlier this month at the Big Ten Championships. The St. Charles, Illinois, native finished in a four-way tie for 22nd.
Jump was joined in the 100-yard fly by senior Kelsey Drake. The Marion, Iowa, native broke the 53.00 mark for the first time in her career, finishing with a time of 52.93 seconds to place 33rd. It is the second-fastest time in school history.
Junior Sam Tamborski also competed off the 3-meter springboard, finishing with a score of 274.65 to place 28th overall.
Iowa closes out the NCAA Championships with Drake, Jump and freshman Alyssa Graves competing in the 200-yard butterfly. Graves will also compete in the 1,650-yard freestyle. Action begins at 9 a.m. (CT).