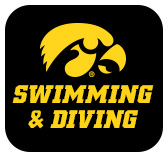 GREENSBORO, N.C. – The University of Iowa women's swimming and diving team's season came to a close Saturday at the NCAA Championships at the Greensboro Aquatic Center.
Freshman Alyssa Graves swam in a pair of events, placing 27th in the 1,650 freestyle with a time of 16:18.59. She also led a trio of Hawkeyes in the 200 fly, swimming a time of 1:57.81 – a career-best – to place 33rd.
Sophomore Mallory Jump and senior Kelsey Drake, meanwhile, placed 37th and 38th in the 200 fly. Jump finished with a 1:58.09 and Drake touched in 1:58.41.
Following today's NCAA Championships, Drake, Graves, and Jump hold the top three times in the event in school history.
The Iowa men's swimming and diving team will have Will Myhre compete at the NCAA Championships next week. Myhre will swim in the 100 breast on March 26 and 200 breast on March 27.