By DARREN MILLER
hawkeyesports.com
SAN ANTONIO — Who is it going to be this time?
The search for an "extra dimension" is on for Tuesday when the University of Iowa women's basketball team plays Kentucky (18-8) in the second round of the NCAA Women's Basketball Championship in San Antonio.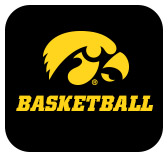 The fifth-seeded Hawkeyes (19-9) feature point guard Caitlin Clark, who averages 26.5 points per game, and center Monika Czinano, who averages 19.6 points and shoots 67 percent from the field.
Which complementary factor will rise against the Wildcats?
"Everyone knows about Caitlin and Monika, but when we add that extra dimension, and who knows who it could be?" Iowa head coach Lisa Bluder said. "On any day it could be someone different."
During a tournament-opening 87-72 win against Central Michigan, Bluder was particularly pleased with the extra dimension provided by McKenna Warnock (13 points, 10 rebounds) and Kate Martin (13 points, four assists). Tomi Taiwo logged 22 minutes off the bench and scored seven points with four rebounds, an assist and steal.
"I'm optimistic about our offense, it is well-rounded," Bluder said. "I loved it (Sunday) when we had four people in double figures, that's when we're really good. When we add those extra dimensions, we are really clicking on all cylinders offensively."
The Hawkeyes enter Tuesday's game with a scoring average of 86.6 points per game, second nationally to Maryland (91.3). Iowa's scoring defense (80.2) is at the bottom of Division I. Kentucky averages 73 points and allows 65.7.
"The key is going to be able to slow (Kentucky) down and the better defensive team will win. Our mission is to play good defense, move hard and we will do what we want on offense."

Kate Martin, Iowa guard
"The key is going to be able to slow (Kentucky) down and the better defensive team will win," Martin said. "Our mission is to play good defense, move hard and we will do what we want on offense."
Something the Hawkeyes have done all season is have that extra dimension appear when needed. Examples are Warnock and Martin against Central Michigan, Gabbie Marshall with 27 points against Rutgers in the Big Ten Tournament, Sharon Goodman with six points in 12 minutes against Michigan State, Taiwo with eight points and four rebounds at Wisconsin.
Bluder wants the extra dimension to appear against Kentucky, a team that tied for fifth in the Southeastern Conference. The Wildcats are led by Rhyne Howard who puts up 20.4 points and 7.3 rebounds per game.
"They are a very good basketball team that competes in one of the best basketball conferences in America," Bluder said. "But we think we are, too."
Iowa, which advanced to the championship game of the Big Ten Tournament, was sixth in the Big Ten and owns two wins over Rutgers, a team the Hawkeyes say most closely resembles Kentucky.
"(Kentucky is) a fast-paced team, a very energetic team, they are emotional and move hard on defense," Martin said.
"It's wonderful because we did defeat Rutgers twice," Bluder said. "That's the mindset you have to come in here knowing that pressure is coming at you, knowing you have to box out. They are similar teams."
The Hawkeyes start a junior, three sophomores and a freshman. They are a young team that is one win from a berth in the Sweet 16.
"At the beginning of the year everybody was saying, if we could just make it to the NCAA Tournament," Bluder said. "Now you get here and you want to win that first game. Now you are like, Sweet 16 sounds so good. You keep wanting more, that's human nature and it's competitiveness. I have a team that believes it belongs in the Sweet 16…you have to feel you belong and this team believes it."
Tip-off from Bill Greehey Arena is 2:30 p.m. (CT). The game will be televised on ESPNU. Iowa and Kentucky have met one other time, with the Hawkeyes winning, 77-68, on Nov. 23, 1991.