By SHANE STURTZ
hawkeyesports.com
SAN ANTONIO – The fifth-seeded University of Iowa women's basketball team (20-9) led from start to finish in a dominant 86-72 victory over fourth-seeded Kentucky (18-9) in the second round of the NCAA Tournament on Tuesday afternoon inside Bill Greehey Arena.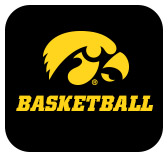 It will be Iowa's second straight Sweet 16 appearance and eighth in school history.
"I'm extremely thrilled," P. Sue Beckwith, MD, head coach Lisa Bluder said. "Look at our team at the beginning of the year – no one had us receiving votes in the Top 25. We kept believing in ourselves. I am so happy for my team. We're a young team and we're going to build on this."
Freshman guard Caitlin Clark led Iowa with a tournament-high 35 points to set a new school record for most points in an NCAA Tournament game.
"I was feeling my shot early in the first half," said Clark, who recorded her NCAA-leading 12th 30-point game. "When it's going you keep shooting it, but it was a whole team effort. Everybody was knocking down shots."
Clark, who drained six 3-pointers, grabbed seven rebounds, and dished out six assists, was one of three Hawkeyes in double figures as Iowa shot 35-of-61 from the floor (57.4 percent) for its best shooting performance in nine games.
Defensively, the Hawkeyes were just as dominant. Iowa limited Kentucky to only 22 first-half points – a season-low from an opponent this season – on 8-of-37 shooting (21.6 percent). The Wildcats finished the game, shooting 35.1 percent (26-of-74) from the floor.
"Defensively we were phenomenal," Clark said. "That was the most complete game we played on the defensive end."
Clark and the Hawkeyes jumped out to an 11-0 lead to begin the game and held a double-digit cushion throughout the contest. Iowa's 23-11 first-quarter lead quickly blossomed to a 34-13 advantage four minutes into the second quarter thanks to a 9-0 run.
Clark scored Iowa's final five points of the first half and finished with 24 first-half points, outscoring Kentucky at halftime as Iowa held a 49-22 advantage at the break.
Kentucky used an 11-0 run to bring the game within 16 points, 55-39, with 4:48 left to play in the third, but that's all the closer they would get. Iowa responded with six straight points of its own and led 70-46 heading into the fourth quarter.
Clark scored her final bucket on a jumper with 4:49 to play as Iowa held a 79-55 advantage, and she subbed out with 1:09 remaining.
Junior Monika Czinano and sophomore McKenna Warnock chipped in with double-digit scoring efforts. Czinano was 7-of-12 from the field for 14 points and she added eight rebounds, while Warnock recorded 10 points and eight rebounds.
HOW SWEET IT IS
Iowa has advanced to the Sweet 16 in three of its last four NCAA Tournament appearances.
"That's the goal – you want to have success, but you don't want it to be a blip," head coach Lisa Bluder said. "You want it to be sustained success. I'm thrilled that we've been there. We want to keep going. We got to the Elite 8 the last time we played in this tournament. That's the next step."
Iowa's all-time leading scorer Megan Gustafson was the face of Iowa's Elite 8 run in 2019. This year it's, Clark who plays that role in Iowa's postseason run
"Going on to the Sweet 16 is something special," Clark said. "Honestly, they didn't have us in the field to start this season, but this team believed. Believed in the coaches, and the coaches believed in us. We worked hard every single day. We're going to continue to keep being us going into the Sweet 16. This is an awesome feeling. This is something you dream of since you were a little kid. I'm excited for our girls, the coaches, and our program."
MORE FROM HEAD COACH LISA BLUDER:
"I'm really happy for my staff. I've got such a great group of women that work so hard and so tirelessly. I am so proud of their efforts and our administration at Iowa. I'm happy for Hawkeye Nation. We missed them this year in Carver-Hawkeye Arena. Looking forward to having them back next year."
OF NOTE
P. Sue Beckwith, MD, head coach Lisa Bluder has led the Hawkeyes to 14 20-win seasons, including 12 of the last 14 seasons.
Clark's six 3-pointers are the most all-time by a Hawkeye in an NCAA Tournament game. The previous record was five set by three Iowa student-athletes, four times, including Theairra Taylor (vs. Marist, 2014), Jaime Printy (vs. Gonzaga, 2011), and Arneda Yarbrough, twice (vs. Mount St. Mary's, 1994; vs. Alabama, 1994).
Clark's 35 points are the most by a Hawkeye in an NCAA Tournament game. Tangela Smith held the previous record with 32 points against UMass in 1998.
Clark's 13 field goals ties Iowa's most in an NCAA Tournament game with Arneda Yarbrough (twice vs. Mount St. Mary's, 1994).
UP NEXT
Iowa will face the winner of the second-round matchup between top-seeded UConn and eighth-seeded Syracuse. The date, time, and TV designation are to be determined.