By DARREN MILLER
hawkeyesports.com
SAN ANTONIO — P. Sue Beckwith, MD, head coach Lisa Bluder made a declaration Saturday after leading the University of Iowa women's basketball team to a fifth straight 20-win season, third straight trip to the NCAA Tournament and second straight appearance in the Sweet 16.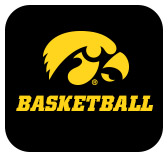 "We're a young team and we'll be back here," Bluder said after her Hawkeyes were eliminated by top ranked Connecticut (27-1), 92-72, in the Alamodome. "Do not hang your heads. We are extremely young and we will be back."
There was a lot for Bluder to like about her team's performance against the Huskies: Four Hawkeyes scored in double figures, led by freshman Caitlin Clark with 21 and sophomore McKenna Warnock with 20.
Warnock and sophomore Gabbie Marshall showed off their accuracy from outside, combining to make 7 of 9 3-point field goals. Marshall was 4 of 5 and Warnock was 3 of 4.
Iowa assisted on 18 of 26 field goals, the trademark ball-sharing that defines the Hawkeyes.
From the line, Iowa made 8 of 9 free throws. Those are all things that will make Bluder smile when she looks back on the game film.
Then there is this…Connecticut won the rebounding battle by 17 (42 to 25) with 15 offensive boards. It's hard to beat anyone, let alone the top-rated team in the land, when you surrender 14 second-chance points and 46 points in the paint.
"The offensive rebounds really hurt us," Bluder said. "We did not box out and that has been a theme for us all year and we have to get better at it. It gives us good film to show and work on in the offseason."
Proving they Belong
The Hawkeyes outscored Connecticut 26-23 in the third quarter and it was a seven-point game with seven minutes remaining.
"The final score isn't indicative of how close this game was," Bluder said. "We kind of melted down the last four or five minutes and didn't show everybody how close of a game that really was."
Anchors and Outstanding Puzzle Pieces
Clark and Warnock were joined in double figures by Monika Czinano (14 points on 7 of 11 shooting) and Marshall (12 points, all from distance). Martin shared team-high honors with five rebounds and five assists.
"It has been that way all year as we have had different people stand up," Bluder said. "You have McKenna Warnock who came out and had a fabulous game. Gabbie Marshall, what was she from 3-point range? Kate Martin has done it at times, Tomi Taiwo has done it at times. We have other pieces to this puzzle. That is what is so fun. We have the anchors in Caitlin and Monika, but we have a lot of good pieces around that puzzle, too."
Expectations for 2021-22
Iowa finished the season with a record of 20-10, winning eight of its final 11 games. All five Hawkeye starters will return.
"The expectations should be extremely high," Bluder said. "Nobody else expected much of our team this year, but we did. Moving forward that is going to get better and better. Our goal is we want to be in a Final Four. We want to take Iowa back to a Final Four. That is the direction we are trying to go and we will go."
Quoting the Rookie Phenom
Clark finished her fantastic freshman season averaging 26.6 points and 7.1 assist per game. She made 116 3-point field goals and shot 86 percent from the free throw line.
"The reason I came to Iowa is because I wanted to do something special," Clark said. "This being my home state, this is where I wanted to go and I know I'm in the right place. This season was truly special and for this team it is only up from here."