IOWA CITY, Iowa – University of Iowa three-time national champion Spencer Lee has been named winner of the Mike Howard Most Valuable Wrestler Award. The Iowa wrestling coaching staff announced the 2021 award winners Tuesday.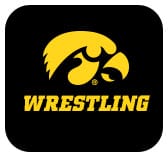 Lee won the 125-pound NCAA Championship and the 125-pound Big Ten Championship in 2021. He won both the Dan Hodge Trophy and was named Big Ten Wrestler of the Year for the second straight season. He was 12-0 in 2021 with 11 bonus-point victories, outscoring his 12 opponents 141-15.
Lee was also named winner of the Mike J. McGivern Most Courageous Award. He was 5-0 at the NCAA Championships, outscoring his opponents 59-8 while winning his third national title. He announced after the tournament that he was wrestling without an ACL in either knee.
Lee was one of seven Hawkeyes to earn an All-America Award. The NCAA champion Hawkeyes had more All-Americans than any other school at the national tournament. Iowa has crowned at least one All-American in 50 consecutive NCAA Championships.
Jaydin Eierman earned his fourth career All-America honor, his first as a Hawkeye. He was also winner of the Hawkeyes' Most Pins Award. Eierman had a team-high six falls in 2021. One more than Lee and Tony Cassioppi.
Nelson Brands was named Most Improved Wrestler. Brands wrestled at 184 pounds in each of Iowa's five duals and in both postseason tournaments. He was 8-6 overall with seven wins against ranked opponents. He placed fourth at the Big Ten Championships to earn his first berth at the NCAA Championships.
Carter Happel and Myles Wilson were named recipients of the Coaches' Appreciation Award. Cullan Schriever was named recipient of the John and Dorothy Sill Most Dedicated Award.
The J. Donald McPike, Sr., Award, presented to the senior wrestler with the highest grade point average, was awarded to both Connor Corbin and Justin Stickley. Corbin graduates in May with a Bachelor of Science in biology (genetics and biotechnology). Stickley graduates in May with a Bachelor of Business Administration (entrepreneurial management).
2021 AWARD WINNERS
Mike Howard Most Valuable: Spencer Lee
Mike J. McGivern Most Courageous: Spencer Lee
John and Dorothy Sill Most Dedicated: Cullan Schriever
J. Donald McPike, Sr., High Senior GPA: Connor Corbin and Justin Stickley
Coaches' Appreciation: Carter Happel and Myles Wilson
Most Improved: Nelson Brands
Most Pins: Jaydin Eierman (6)
All-Americans: Spencer Lee, Austin DeSanto, Jaydin Eierman, Kaleb Young, Michael Kemerer, Jacob Warner, Tony Cassioppi