IOWA CITY, Iowa – University of Iowa senior Jaydin Eierman has been named winner of the 2021 Schalles Award, presented annually by WIN Magazine to the nation's top collegiate pinner.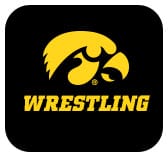 Eierman won by fall in six of his 12 matches in his first season as a Hawkeye. He finished the regular season with three straight pins, added another on his way to winning a Big Ten title and recorded two more in the quarters and semifinals of the NCAA Championships.
Eierman became a four-time All-American in 2021, placing runner-up at 141 pounds at the national tournament. He finished the season 12-1 with nine wins over ranked opponents, including five in the top 10. His six pins were a team-high. Eierman is the first Hawkeye to win the Shalles Award since its inception in 1989.
The Schalles Award is named after Wade Schalles, who set the college pin record and won NCAA Championships at Clarion State in 1972 and 1973. Referred to as the Father of Funk, Schalles defeated 153 of 159 opponents and pinned 109 during his college career. He was named a Distinguished Member of the National Wrestling Hall of Fame in 1991.