THIS WEEK
Iowa hosts Purdue-Fort Wayne and Mississippi State in a two-game home stand this week. The Hawkeyes kick off at 6 p.m. (CT) on Thursday against the Mastodons, then host the Bulldogs at 1 p.m. Sunday at the Iowa Soccer Complex. Admission is free.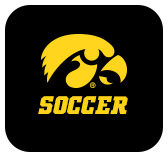 WATCH/FOLLOW LIVE
Both games this week are streamed live at BTN Plus (subscription).
Links to streaming and live stats can be found at hawkeyesports.com/soccergameday.
Fans can follow the Iowa soccer program on Twitter (@HawkeyeSoccer) for live in-game updates.
SCOUTING THE MASTODONS
Purdue-Fort Wayne got out to its best two-game start in program history this season at 1-0-1. The Mastodons are still undefeated a week later, posting a pair of ties against Eastern Illinois and Bellarmine. Their lone win came against Morehead State on Aug. 22 by a score of 3-1.
Four different players have scored one gaol apeice for the 'Dons through four games. They include forwards Gigi Ricciardi, Mackenzie Evans, Morgan Reitano, and Megan Sinnott.
The pride of this Purdue-Fort Wayne team is dense; in four games the Mastodons have forced two double-overtime shutouts and allowed just two scores.
Last season, Purdue-Fort Wayne posted a 3-5-1 overall record and a 2-5-1 record in the Horizon League.
Sophomore forward Rylee Vruggink led the team in points (9), assists (3), shots (22) and shots on goal (17) as a freshman last spring.
SCOUTING THE BULLDOGS 
Mississippi State enters the week 2-2 with a pair of shutout wins over Louisiana and Southeast Missouri, as well as one-score losses to Lipscomb and Arizona State. The Bulldogs take on Minnesota on Thursday prior to their visit to Iowa City.
Goalkeeper Maddy Anderson, forward Monigo Karnley, and midfielders Karnley Alyssa D'Aloise and Onyi Echegini were named to the Preseason All-SEC Watchlist. Echegini and Karnley were Mississippi State's leading scorers last year with 11 points each, combining for nine goals.
The Bulldogs finished 6-4-3 overall and 2-3-1 in the SEC last season.
SERIES HISTORY
This week will mark Iowa's first meeting with both the Mastodons and Bulldogs.
GETTING THINGS ROLING
Freshman Kenzie Roling scored in each of Iowa's first two regular season games. Roling scored the tying goal against DePaul and the game-winner against No. 18 Saint Louis. The Waverly-Shell Rock alumnus also notched goals in each of Iowa's exhibition wins. She leads Iowa in points (four) and shots on goal (five).
WHO'S IN GOAL?
Redshirt junior Monica Wilhelm has started each of Iowa's four regular season games in goal this season. Wilhelm has notched 10 saves season and one shutout. She allowed no more than one score in each of Iowa's games this season.
Sophomore Macy Enneking has out thus far due to injury. Enneking was the only unanimous Big Ten All-Freshman Team selection last season and earned Big Ten Tournament Most Outstanding Defensive Player accolades for allowing just one goal in four games at the conference tournament. She tallied 52 saves across 11 games and averaged a conference-best .912 save percentage, allowing just five goals in 956 minutes played. The Hilliard, Ohio native pitched shutouts in each of Iowa's two exhibition contests this preseason.
POWELL PLAYS FOR FAMILY
Graduate student Courtney Powell transferred to Iowa from Iowa State last season as a tribute her father, a lifelong Hawkeye fan who passed away due to COVID-19. Her season-high 81 minutes and early goal were crucial in putting the Cyclones away in Iowa's 2-1 Cy-Hawk victory Aug. 26.
90 TRACKER
The following players have played the entirety of at least one game this season: Sara Wheaton (4), Rielee Fetty (4), Samantha Cary (3), Aleisha Ganief, Addie Bundy, and Courtney Powell.
2 FOR THE MONEY
The Hawkeyes are undefeated in their last 25 games when scoring two goals or more. Since the start of the 2018 season, Iowa has a record of 22-0-1 when scoring two goals or more. That includes a 2-0 record in 2021, 2-0 in 2020, 13-0-1 in 2019 and 5-0 in 2018. The Hawkeyes won their final two games in 2017 when scoring two-plus goals.
The last time Iowa lost a game while netting at least two goals was Oct. 1, 2017 at Michigan State (L, 3-2).
SENIOR LEADERSHIP
After having one of the youngest teams in the nation last spring, the Hawkeyes boast a veteran senior class. Nine seniors will provide leadership and production on both sides of the ball. The class scored six of Iowa's 11 goals last season while defenders Sara Wheaton and Riley Whitaker helped lead Iowa to seven shutouts. Other returning seniors include defender Riley Burns, midfielders Hailey Rydberg, Olivia Hellweg, and Josie Durr, as well as forwards Samantha Tawharu, Jenny Cape, and Skylar Alward. Graduate transfers Courtney Powell and Alyssa Walker also bring experience to the squad.
IOWA HAWKEYES NEED-TO-KNOW
Three Hawkeyes — Hailey Rydberg, Sara Wheaton, and Samantha Cary — were named to the
Big Ten Preseason Honors List. Iowa was picked to finish seventh out of 14 teams in the preseason
coaches' poll.
Seniors Sara Wheaton and Hailey Rydberg were voted team captains this season.
Head coach Dave DiIanni is in his eighth season at the helm of the soccer program. Last spring, DiIanni's team posted a 7-9-1 record, finishing the season on a red-hot postseason run that saw the Hawkeyes win the program's first Big Ten Tournament title and reach the NCAA Tournament Second Round for the first time in school history. Iowa lost just one senior from that youthful squad heading into this season.
Over the past two seasons, Iowa has made back-to-back NCAA Tournament appearances for the first time in program history.
Last spring, the Hawkeyes lost two-time Iowa Offensive Player of the Year Devin Burns and veteran goalkeeper Claire Graves but discovered a group of new young playmakers as the season continued. Sophomore Meike Ingles closed out her rookie campaign with four postseason goals, earning Big Ten Tournament Most Outstanding Offensive Player honors. Sophomore Macy Enneking was named the conference tournament Most Outstanding Defensive Player, and was an unanimous Big Ten All-Freshman Team selection.
Those two headline a group of impactful underclassmen this season, though the team also features a robust class of nine senior leaders anchored by midfielder Hailey Rydberg, who was a captain last season and voted the team's Most Valuable Player. Senior Sara Wheaton is the returning Iowa Defensive Player of the Year.
The Hawkeyes welcome nine newcomers in 2021, including seven freshmen and two graduate transfers. Courtney Powell was Iowa State's top offensive weapon last spring, leading the team in points (8), goals (4), shots (29) and shots on goal (23). She is joined by Alyssa Walker, who scored four goals for Richmond last season and previously earned second-team Atlantic-10 All-Conference honors in 2019.
LAST WEEK
Iowa got out to a 3-0 start with a win over Iowa State on Thursday. Courtney Powell, a graduate transfer from Iowa State, scored the game's first goal in the 22nd minute. The Hawkeyes seized the momentum, and a Sara Wheaton score early in the second half helped put the Cyclones away. Iowa was unable to escape Lawrence with another Big 12 victory, however, falling in overtime to Kansas after pitching a shutout in regulation. Iowa pitched three shutout halves last week.
ROLING, WHEATON EARN BIG TEN WEEKLY HONORS
Freshman Kenzie Roling and senior Sara Wheaton were recognized as the Big Ten's freshman and defensive players of the week, the conference office announced Aug. 24.
Roling, a freshman from Waverly, Iowa, scored goals in each of Iowa's wins at DePaul and St. Louis. Her first-half goal against the Blue Demons evened the score 1-1 and her first-half goal against the Billikens proved to be the game-winner in a 1-0 Hawkeye win. Including Iowa's preseason exhibitions, Roling scored in each of the Hawkeyes' four games. Following her Week 1 performance, she was named an honorable mention on TopDrawerSoccer's Team of the Week.
Roling is the first Iowa freshman to score in consecutive matches since Oct. 3-5, 2008, when Alyssa Cosnek scored in wins over Indiana and North Dakota State (Cosnek also scored in each of Iowa's first two matches that season, the last Hawkeye rookie to score in the team's opening two contests)
Wheaton, a senior team captain from Chandler, Arizona, played all 90 minutes in both wins last week, leading a defense that allowed just one score and five shots on goal. The Hawkeyes shutout a nationally ranked Billikens team that was held scoreless just two times in 17 games last season.
The weekly conference honors are career firsts for Roling and Wheaton.
IOWA CORN CY-HAWK SERIES
Iowa Soccer kicked off 17th edition of the Iowa Corn Cy-Hawk Series with a 2-1 win over the Cyclones last
week. The Hawkeyes have won 11 of the last 13 matchs against Iowa State.
Iowa's corn farmers are proud to sponsor the Iowa Corn Cy-Hawk Series to celebrate our great state and the sports rivalry that unites us all. The Iowa Corn Growers Association and the Iowa Corn Promotion Board partner with Learfield on behalf of both Iowa State University and University of Iowa Athletic Departments for the title sponsorship of the Iowa Corn Cy-Hawk Series. The Hawkeyes captured the inaugural Cy-Hawk Series in 2004-05 (13-8), and won again in 2006-07 (13-8), 2008-09 (21-4), 2010-11 (15-11), 2012-13 (17-9), 2016-17 (20-7), and 2018-19 (15-10).
CHECK OUT THE NEW DIGS
The new soccer operations facility at the Iowa Soccer Complex is up and running. The $4 million facility is located behind the west sideline and includes a spacious locker room and lounge area, multi-purpose space, athletic training space, visiting team and multipurpose locker rooms, and a press box. Construction of the new facility was funded entirely by private support.
LOOKING AHEAD
Iowa plays at Kansas City on Thursday, Sept. 9, at 7 p.m. (CT). The Hawkeyes return home the following Sunday to host Southeast Missouri State at 1 p.m. in the final competition before the start of Big Ten play.