IOWA CITY, Iowa — The University of Iowa wrestling program competed in their third open of  the 2021-22 season, winning four titles Sunday at the Harold Nichols Open.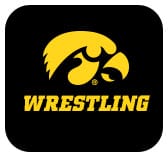 Four Iowa wrestlers won championships in their respective divisions, including Drake Ayala (125), Wyatt Henson (141), Patrick Kennedy (165) and Aaron Costello (285).
Ayala pinned his first two opponents and won the title match by major decision to win the Freshman/Sophomore Division in his college debut.
Kennedy started the day with a pin and then won by technical fall in his next two matches in the 165-pound Open Division, capturing his first tournament title of the season.
Costello rallied off three straight wins by decision to top the 285 Open Division.
Henson was 3-0 on the day, including a 32-16 technical fall in the opening round. He improved to 12-0 this season with three tournament titles.
Complete results from the Harold Nichols Open are available at Trackwrestling.com.
Iowa returns to action Sunday, Dec. 5 traveling to Ames for their first away meet of the year. The Hawkeyes and Cyclones meet at 6 p.m. (CT) at Hilton Coliseum.
UNIVERSITY OF IOWA RESULTS // HAROLD NICHOLS OPEN
Fresh/Soph Division 125 // Drake Ayala 1st place 
Quarterfinal – Drake Ayala (unattached) won by fall over Aime Mukiza (Iowa State) (Fall 1:49)
Semifinal – Drake Ayala (unattached) won by fall over Lane Cowell (Iowa central) (Fall 1:34)
1st Place Match – Drake Ayala (unattached) won by major decision over Conor Knopick (Iowa State) (Maj 16-8)
Open Division 133 // Cullan Schriever 6th place 
Champ. Round 1 – Cullan Schriever (unattached) won by decision over Jack Wagner (Northern Iowa) (Dec 8-5)
Quarterfinal – Cullan Schriever (unattached) won by major decision over Caleb Gross (Greco-Roman Development) (Maj 10-2)
Semifinal – Julian Farber (Northern Iowa) won by medical forfeit over Cullan Schriever (unattached) (MFF)
Cons. Semi – Richard Treanor (Army West Point) won by injury default over Cullan Schriever (unattached) (Inj. 0:00)
Fresh/Soph Division 133 // Charles Matthews 3rd place 
quarterfinal – Aidan Harris (Iowa Central) won by fall over Charles Matthews (Iowa) (Fall 5:00)
Cons. Round 2 – Charles Matthews (Iowa) won by decision over Damon Huston (Unattached – Iowa State) (Dec 10-3)
Cons. Round 3 – Charles Matthews (Iowa) won by Decision over Sammy Lile (Unattached) (Dec 4-3)
3rd Place Match – Cons. Round 3 – Charles Matthews (Iowa) won by Decision over Sam Hrabovsky (Unattached – Iowa State) (Dec 3-2)
Fresh/Soph Division 141 // Wyatt Henson 1st place
Quarterfinal – Wyatt Henson (unattached) won by tech fall over Jack Severin (Unattached – Wisconsin) (TF 32-16)
Semifinal – Wyatt Henson (unattached) won by decision over Connor Thorpe (Northern Iowa) (Dec 9-3)
1st Place Match – Wyatt Henson (unattached) won by medical forfeit over Drew Woodley (Iowa State) (MFF)
Open Division 149 // Bretli Reyna
Champ. Round 1 – Bretli Reyna (unattached) won by fall over Marcus Peterson (California Baptist (Calif.)) (Fall 5:42)
Quarterfinal – Matthew Williams (Army West Point) won by medical forfeit over Bretli Reyna (unattached) (MFF)
Cons. Round 2 – Bretli Reyna (unattached) received a bye () (Bye)
Cons. Round 3 – Andrew Flora (Iowa State) won by medical forfeit over Bretli Reyna (unattached) (MFF)
149 Open Division // Vince Turk
Vince Turk (Iowa) won by decision over Colin Realbuto (Northern Iowa) (6-4)
Fresh/Soph Division 157 // Sebastian Robles 3rd place
Quarterfinal – Sebastian Robles (unattached) won by decision over Nolan Miller-Johnston (Iowa central) (Dec 3-1)
Semifinal – Rj Weston (Northern Iowa) won by fall over Sebastian Robles (unattached) (Fall 1:58)
Cons. Semi – Sebastian Robles (unattached) won by decision over Cale Anderson (Unattached – Wisconsin) (Dec 6-2)
3rd Place Match – Sebastian Robles (unattached) won in sudden victory – 1 over Nolan Miller-Johnston (Iowa central) (SV-1 6-4)
Open Division 165 // Patrick Kennedy 1st place 
Champ. Round 1 – Patrick Kennedy (unattached) won by fall over Carter Weeks (Iowa State Wrestling Club) (Fall 2:28)
Quarterfinal – Patrick Kennedy (unattached) won by tech fall over Jack Ervien (Grand View) (TF 18-3)
Semifinal – Patrick Kennedy (unattached) won by tech fall over Isaac Judge (Iowa State) (TF 20-3)
1st Place Match – Patrick Kennedy (unattached) won by medical forfeit over Austin Yant (Northern Iowa) (MFF)
165 Open Division // Joe Kelly
Austin Kreisser won by major decision over Joe Kelly (Iowa) (12-1)
Open Division 174 // Brennan Swafford 2nd place 
Quarterfinal – Brennan Swafford (unattached) received a bye () (Bye)
Semifinal – Brennan Swafford (unattached) won by decision over Dajun Johnson (Northern Iowa) (Dec 5-2)
1st Place Match – Pat Schoenfelder (Northern Iowa) won by decision over Brennan Swafford (unattached) (Dec 6-4)
285 Open Division // Aaron Costello 1st place 
Aaron Costello (Iowa) won by decision over Tyrell Gordon (Northern Iowa) (7-5)
Aaron Costello (Iowa) won by decision over Paul Robinson (Army) (6-2)
Aaron Costello (Iowa) won by decision over Ethan Anderson (Iowa State) (10-3)