CEDAR FALLS, Iowa —University of Iowa redshirt freshmen Cullan Schriever (133) and Patrick Kennedy (165) won titles Saturday at the UNI Open in Cedar Falls, Iowa. Schriever recorded a pair of major decisions and went 3-0 to win the 133-pound division. Kennedy was 3-0 in the 165-pound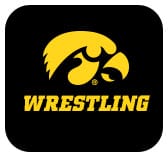 division, winning his opener by technical fall. The tournament titles are the second of the season for both Schriever and Kennedy.
Drake Ayala placed runner-up in the 125-pound bracket. He advanced to the finals with a major decision and technical fall. He dropped an 8-4 decision to All-American Pat McKee in the finals.
Brennan Swafford was 5-1 in the 174-pound bracket. He won four straight on the backside of the bracket to finish third.
Complete results from the UNI Open are available at trackwrestling.com.
Iowa returns to action Dec. 20-21 at the Rokfin Duals in Niceville, Florida for the Rokfin Duals.
UNIVERSITY OF IOWA RESULTS // UNI OPEN
Open Division 125 // Drake Ayala 2nd place
Round 1 – Drake Ayala (Iowa) won by major decision over Maximo Renteria (Illinois) (Maj 16-7)
Round 2 – Drake Ayala (Iowa) won by tech fall over Caleb Fuessley (Iowa State) (TF 22-7)
Round 3 – Pat McKee (Minnesota) won by decision over Drake Ayala (Iowa) (Dec 8-4)
Open Division 133 // Cullan Schriever 1st place
Champ. Round 1 – Cullan Schriever (Iowa) received a bye () (Bye)
Quarterfinal – Cullan Schriever (Iowa) won by major decision over Vance Vombar (Minnesota) (Maj 12-3)
Semifinal – Cullan Schriever (Iowa) won by major decision over Jack Wagner (Northern Iowa) (Maj 22-10)
1st Place Match – Cullan Schriever (Iowa) won by decision over Kyle Biscoglia (Northern Iowa) (Dec 7-4)
Open Division 141 // Drew Bennett
Champ. Round 1 – Drew Bennett (Iowa) won by fall over Jeremy Jakowitsch (Missouri) (Fall 3:38)
Quarterfinal – Cael Happel (Northern Iowa) won by Decision over Drew Bennett (Iowa) (Dec 14-8)
Cons. Round 2 – Tagen Jamison (Gopher Wrestling Club – RTC) won by decision over Drew Bennett (Iowa) (Dec 13-6)
Open Division 165 // Patrick Kennedy 1st place
Quarterfinal – Patrick Kennedy (Iowa) won by tech fall over Grant Stotts (Iowa State) (TF 24-8)
Semifinal – Patrick Kennedy (Iowa) won by decision over Isaac Judge (Iowa State) (Dec 8-3)
1st place match – Patrick Kennedy (Iowa) won by decision over Cael Carlson (Minnesota) (Dec 7-5)
Open Division 165 // Jack McClimon 6th place
Quarterfinal – Cael Carlson (Minnesota) won by decision over Jack McClimon (Iowa) (Dec 8-2)
Cons. Round 1 – Jack McClimon (Iowa) won by injury Default over Wade Mitchell (Northern Iowa) (Inj. 0:44)
Cons. Semi – Isaac Judge (Iowa State) won by decision over Jack McClimon (Iowa) (Dec 6-0)
5th Place Match – Carter Schmidt (Iowa State) won by major decision over Jack McClimon (Iowa) (Maj 11-1)
Open Division 174 // Brennan Swafford 3rd place
Champ. Round 1 – Brennan Swafford (Iowa) won by decision over Dajun Johnson (Northern Iowa) (Dec 6-1)
Quarterfinal – Ellis Pfleger (Missouri) won by fall over Brennan Swafford (Iowa) (Fall 2:38)
Cons. Round 2 – Brennan Swafford (Iowa) won by major decision over James Foy (Unattached) (Maj 14-6)
Cons. Round 3 – Brennan Swafford (Iowa) Won by decision over Jared Simma (Northern Iowa) (Dec 9-4)
Cons. Semi – Brennan Swafford (Iowa) won by fall over Sean Harman (Missouri) (fall 2:06)
3rd Place Match – Brennan Swafford (Iowa) won by decision over Julien Broderson (Iowa State) (Dec 8-5)