LINCOLN, Neb. — University of Iowa wrestlers Max Murin, Kaleb Young and Jacob Warner advanced to the consolation finals of the 2022 Big Ten Wrestling Championships on Sunday afternoon at Pinnacle Bank Arena.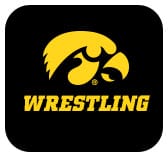 The Hawkeyes went three-for-three in the consolation semifinals, outscoring their opponents 19-5.
Young advanced to the consolation finals with an 8-1 decision at 157 pounds. He put on a minute-plus ride in the second period and escaped early in the third to tie the match, 1-1. With 16 seconds on the clock, Young picked up a takedown and four back points to grab a 7-1 advantage. He finished on top and added a point for riding time .
Max Murin scored a takedown late in the first and added a second-period rideout to take a 2-0 lead into the third. He escaped to start the third, added another takedown and piled up two minutes, 25 seconds of riding time to win, 6-1, at 149.
Warner made it three straight for the Hawkeyes with a 5-3 win at 197. He scored a takedown in the second, and added three points in the third via escape, stalling and riding time.
Iowa split a pair of seventh-place matches Sunday afternoon. Drake Ayala forfeited at 125 to place eighth. Abe Assad won by medical forfeit at 184 to place seventh. Both wrestlers earned automatic qualifying berths to the NCAA Championships in Detroit on March 17-19.
Murin, Young and Warner return to the mat for the medal round this afternoon. Session IV begins Sunday at 3:30 p.m. (CT) and is televised live on BTN. The third-place matches will be contested during the title match of each corresponding weight class. Those matches are streamed online at B1G+.
Iowa has four wrestlers competing in the Big Ten finals. They include Austin DeSanto (133), Jaydin Eierman (141), Alex Marinelli (165) and Tony Cassioppi (285). The finals will air live on BTN.
The Hawkeyes are in second-place heading into the medal round with 122.5 points. Michigan leads the team race with 132.0 points.
CONSOLATION SEMIFINALS RESULTS
149 – #4 Max Murin (IA) dec. #6 Mike Van Brill (RUT), 6-1
157 – #2 Kaleb Young (IA) dec. #5 Peyton Robb (NEB), 8-1
197 – #4 Jacob Warner (IA) dec. #3 Cameron Caffey (MSU), 5-3
SEVENTH-PLACE RESULTS
125 – #9 Dylan Shawver (RUT) mff. #6 Drake Ayala (IA)
184 – #5 Abe Assad (IA) mff. #10 Isaiah Salazar (MINN)
FINALS MATCHUPS
133 – #2 Austin DeSanto (IA) dec. #1 Roman Bravo-Young (PSU)
141 – #2 Jaydin Eierman (IA) vs. #1 Nick Lee (PSU)
165 – #2 Alex Marinelli (IA) vs. #4 Cameron Amine (MICH)
285 – #2 Tony Cassioppi (IA) vs. #1 Gable Steveson (MINN)
THIRD-PLACE MATCHUPS
149 – #4 Max Murin (IA) vs. #3 Ridge Lovett (NEB)
157 – #2 Kaleb Young (IA) vs. #10 Brady Berge (PSU)
197 – #4 Jacob Warner (IA) vs. #5 Pat Brucki (MICH)
TEAM STANDINGS
1. Michigan 132.0
2. IOWA 122.5
3. Penn State 121.5
4. Ohio State 82.5
5. Northwestern 79.5
6. Nebraska 68.5
7. Minnesota 67.5
8. Wisconsin 63.0
9. Rutgers 40.0
10. Purdue 35.5
11. Illinois 33.5
12. Michigan State 33.0
13. Maryland 15.5
14. Indiana 4.0