IOWA CITY, Iowa — Five University of Iowa wrestlers were seeded fifth or better at their respective weights when the NCAA released tournament brackets Wednesday for the 2022 NCAA Championships in Detroit on March 17-19.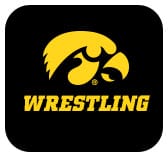 Returning NCAA finalist Jaydin Eierman is seeded No. 2 at 141 pounds. Alex Marinelli and Tony Cassioppi are seeded third at 165 and 285, and Michael Kemerer and Austin DeSanto are seeded fifth at 174 and 133.
Jacob Warner, Max Murin and Kaleb Young earned top 10 seeds. Warner is sixth at 197, Murin is eighth at 149 and Young is seeded ninth at 157.
Drake Ayala enters his first NCAA tournament as the No. 13 seed at 125 pound. Abe Assad is seeded 18th at 184 pounds. Assad qualified for the national tournament in 2020 before it was cancelled due to COVID 19.
Iowa is sending its entire 10-man lineup to the NCAA Championships. The lineup, seeds, and opening round opponents are listed below.
The 2022 NCAA Division I Wrestling Championship are March 17-19 at Little Caesars Arena in Detroit, Michigan. Evening sessions are all on ESPN. Day sessions are on ESPN 2 (Thursday) and ESPNU (Friday and Saturday). Single mat coverage of every match is available on WatchESPN.
IOWA'S FIRST ROUND NCAA MATCHUPS (# indicates tournament seed)
125 – #13 Drake Ayala (Iowa) vs. #20 Fabian Gutierrez (Chattanooga)
133 – #5 Austin DeSanto (Iowa) vs. #28 Sidney Flores (Air Force)
141 – #2 Jaydin Eierman (Iowa) vs. #31 Wilfredo Gil (Franklin and Marshall)
149 – #8 Max Murin (Iowa) vs. #25 Corbyn Monson (Central Michigan)
157 – #9 Kaleb Young (Iowa) vs. #24 Doug Zapf (Penn)
165 – #3 Alex Marinelli (Iowa) vs.#30 Evan Barczak (Drexel)
174 – #5 Michael Kemerer (Iowa) vs. #28 Benjamin Pasiuk (Army)
184 – #18 Abe Assad (Iowa) vs. #15 Hunter Bolen (Virginia Tech)
197 – #6 Jacob Warner (Iowa) vs. #27 Alan Clothier (Northern Colorado)
285 – #3 Tony Cassioppi (Iowa) vs. #30 Josh Heindselman (Oklahoma)