INDIANAPOLIS — The 2022 Big Ten Men's Basketball Tournament Champion Iowa Hawkeyes received an automatic berth to the 2022 Men's Basketball Tournament, its 28th appearance in the tournament, including its sixth under head coach Fran McCaffery.
Iowa (26-9) received a No. 5 seed and will play Atlantic 10 Champions and 12th-seeded Richmond (23-12) on Thursday in Buffalo, New York, in the Midwest Region. Game time and television information will be released tonight. Thursday will be the first meeting between the Hawkeyes and Spiders.
The other two teams in Iowa's first-weekend bracket is fourth-seeded Providence (25-5) and No. 13 seed South Dakota State (30-4).
Information on pre-tournament news conferences and open practice times will be released on Monday.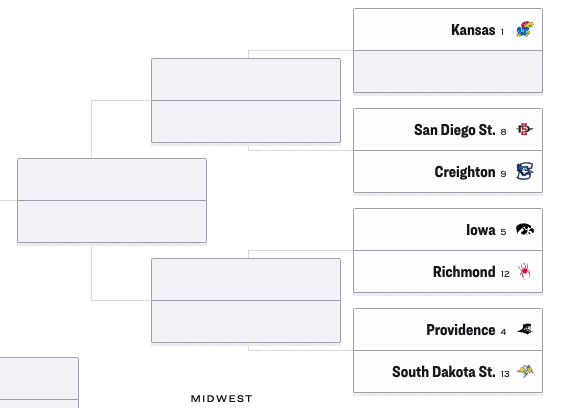 TICKET INFORMATION
The Iowa Athletics Ticket Office receives a limited number of tickets and will not have any general public ticket sales through our office. Fans are encouraged to visit ncaatickets.com for ticket availability.
IOWA INFORMATION
• Iowa has qualified for six of the last eight NCAA tournaments (2014, 2015, 2016, 2019, 2020, 2022); the 2021 NCAA Tournament was canceled due to the COVID-19 pandemic.
• Iowa won four games in four days to capture its third Big Ten Tournament title on Sunday.
• Iowa has won 26 games this season, its second highest win total in a single season in program history (30 in 1987).
• Former Hawkeye Darius Stokes (2011-14) is the video coordinator on Richmond's staff.
• This year marks the fourth time Iowa has earned a No. 5 seed in the NCAA Tournament. The other previous times were 1980, 1988, and 1999. The Hawkeyes advanced to the Final Four in 1980 and the Sweet 16 both in 1988 and 1999.
• Iowa has been ranked seventh or better in its last five NCAA Tournament appearances: No. 7 seed in 2015, 2016 and 2019; No. 2 seed in 2021 and No. 5 seed in 2022.
• The Hawkeyes have won eight of their last nine games away from home (Maryland; Ohio State; Nebraska; Michigan; Northwestern; Rutgers; Indiana; Purdue).
• Iowa is a perfect 5-0 in games contested on neutral courts this season.
• Iowa has won 12 of its last 14 games, dating back to Feb. 6, and has been nationally ranked each of the last three weeks of the regular season.
• Iowa won seven games over NCAA Tournament teams (Purdue, Michigan State, Ohio State, Rutgers, Longwood, and Indiana twice) this season.
• Eight of Iowa's nine losses during the regular season came to teams who qualified for the NCAA Tournament.
• Fran McCaffery has guided Iowa to 20 wins or more in eight of the last 10 seasons and finished in the top half of the Big Ten nine of the last 10 years. Furthermore, the Hawkeyes have finished fifth place or better in the Big Ten regular season standings six of the last eight years.