April 24, 2014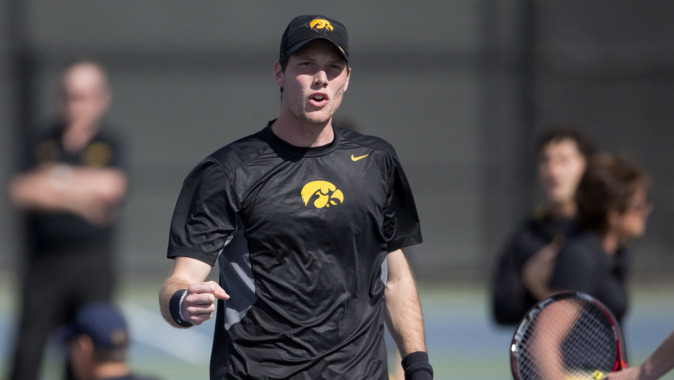 Complete Results

EAST LANSING, Mich. — The University of Iowa men's tennis team concluded its season Thursday afternoon, as the Hawkeyes fell to No. 32 Northwestern, 4-0, in the first round of the 2014 Big Ten Tournament. Iowa finishes the season (9-15, 1-10) while Northwestern (20-9, 7-4) advances to face Purdue in the second round. This marked the second consecutive season the Hawkeyes and Wildcats met in the opening round of the Big Ten Tournament.
"I didn't feel like we played especially well today, and if that happens then we will have a tough time with a team as talented as Northwestern," said UI head coach Steve Houghton. "Overall I think guys played hard, practiced hard, worked hard, and had a great attitude on the season. We made a lot of progress this year which may not show up in the win-loss column, but everyone on the team knows that we took big steps forward and that this season will act as a springboard for the future of the program."
Northwestern opened the match by taking the doubles point behind a pair of victories at the No. 1 and No. 2 positions. Seniors Chase Tomlins and Joey White were trailing 6-5, but were on serve in their No. 3 match when play was abandoned.
In singles, the Wildcats picked up singles victories at the No. 2, No. 5, and No. 6 positions to secure the points necessary to advance onto the second round. The three remaining matches, all of which were in the second set, were abandoned at that point.
The league also announced conference honors at the annual banquet Thursday evening, and two Hawkeyes received yearly accolades. Senior Jonas Dierckx was named a second-team All-Big Ten selection. The honor marks the second consecutive year in which Dierckx earned second team laurels.
"A great honor to be named all Big-Ten, especially in this day and age," added Houghton. "With how tough the Big Ten is these days, to be considered for all Big-Ten is special.
Classmate Michael Swank was the team's recipient of the Big Ten Sportsmanship Award.
"Michael definitely deserves the sportsmanship award. He's been a tremendous leader among other things and a great competitor throughout the entire season. All of that adds up to being the type of sportsman we are looking for," said Houghton.
2014 Big Ten Tournament
#32 Northwestern 4, Iowa 0
Doubles
1. #28 Smith/Kumar (NU) def. Swank/Alden (UI): 8-0
2. Shropshire/Pasareanu (NU) def. Dierckx/Hagan (UI): 8-4
3. Baev/Kirchheimer (NU) vs. Tomlins/White (UI): 6-5, unfinished
Singles
1. #46 Raleigh Smith (NU) vs. #124 Jonas Dierckx (UI): 6-4, 4-1, unfinished
2. #120 Sam Shropshire (NU) def. Brian Alden (UI): 6-1, 6-4
3. Konrad Zieba (NU) vs. Juan Estenssoro (UI): 6-0, 5-2, unfinished
4. Mihir Kumar (NU) vs. Matt Hagan (UI): 7-6 (7-5), 5-2, unfinished
5. Strong Kirchheimer (NU) def. Dominic Patrick (UI): 6-1, 6-1
6. Alex Pasareanu (NU) def. Michael Swank (UI): 6-4, 7-5
Order of Finish: Doubles (1,2); Singles (2,5,6)