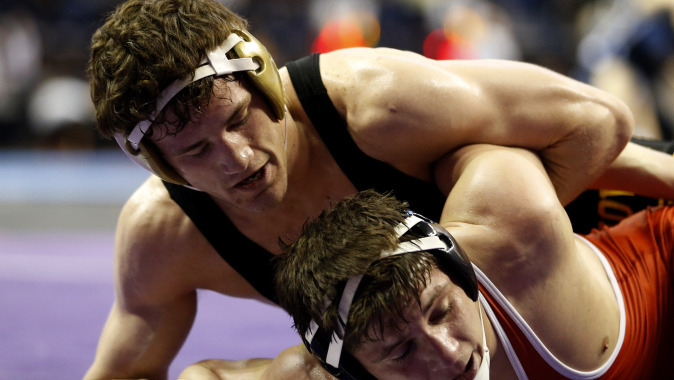 May 21, 2014
IOWA CITY, Iowa — Four-time All-American Derek St. John leads a group of nine Hawkeyes to Akron, Ohio, this weekend to compete at the 2014 University Nationals and University World Team Trials.
Competition begins Saturday at the Louis and Freda Stile Athletic Field House on the campus of the University of Akron.
University of Iowa representatives include Matt Gurule (57 kg), Phillip Laux (57 kg), Topher Carton (61 kg), Jake Marlin (61 kg), St. John (70 kg), Logan Thomsen (70 kg), Alex Meyer (80 kg), Jeremy Fahler (86 kg), and Kris Klapprodt (86 kg).
Tournament champions will advance to represent the United States at the 2014 University World Championships on July 6-12 in Hungary.
Flowrestling is providing a live stream of the event beginning Saturday and Sunday 9 a.m. (CT).
UPDATE FROM AKRON: Three Hawkeyes placed at the University Nationals. Alex Meyer placed fourth at 80 kg, Phillip Laux placed fifth at 57 kg, and Kris Klapprodt placed eighth at 86 kg.
University winners include Nahshon Garrett (57 kg), B.J. Futrell (61 kg), Anthony Ashnault (65 kg), James Green (70 kg), Ian Miller (74 kg), Kyle Crutchmer (80 kg), Chris Perry (86 kg), Chad Hanke (97 kg), and Adam Coon (125 kg).