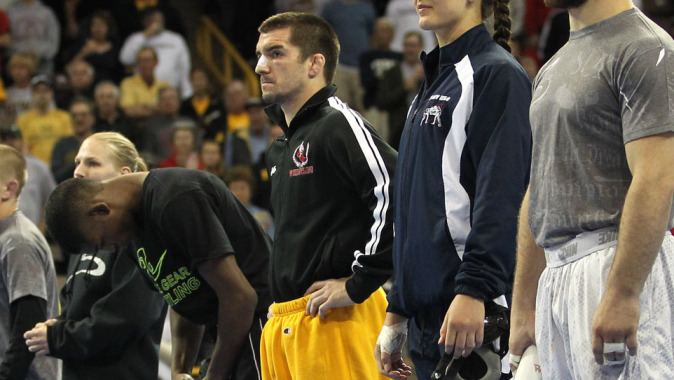 June 1, 2014
MADISON, Wis. — Former University of Iowa national champion Brent Metcalf earned a spot on the United States World Team following a 4-2, 3-0 win over Jordan Oliver in the best-of-3 finals of the U.S. World Team Trials on Sunday.
Metcalf will represent the United States at 65 kg at the World Championships in Tashkent, Uzbekistan on Sept. 8-14. It marks the second straight year and the third time in his career (2010) Metcalf has earned a spot on the U.S. World Team.
This year Metcalf be joined on Team USA by Hawkeye Wrestling Club teammate Tony Ramos, who won the 57 kg division Saturday. It is the first time since 2010, when Metcalf and Mike Zadick represented the U.S. in Moscow, Russia, that two former Hawkeyes made the World Team.
Hawkeye redshirt freshman Thomas Gilman also earned a berth on Team USA. Gilman was 5-0 at the Junior World Team Trials and will compete at the Junior World Championships in Croatia on Aug. 5-10.
Former Hawkeye All-American Phil Keddy was 1-1 at the World Team Trials. He defeated Quentin Wright, 13-6, in the quarterfinals of the challenge tournament before falling to Ed Ruth, 14-4, in the semis.
HWC 2014 World Team Trials
Brent Metcalf (65 kg)
Best 2-of-3 Finals
Brent Metcalf dec. Jordan Oliver, 4-2
Brent Metcalf dec. Jordan Oliver, 3-0
Phil Keddy (86 kg)
Phil Keddy dec. Quentin Wright, 13-6
Ed Ruth tech. fall Phil Keddy, 14-4
Chris Perry def. Phil Keddy, IFF