June 18, 2014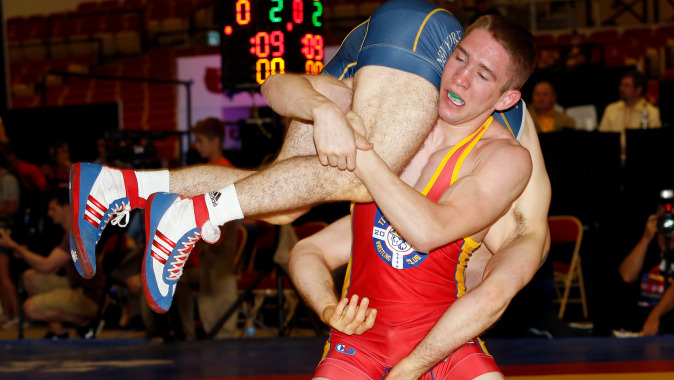 June 18, 2014
Editor's Note: The following first appeared in the University of Iowa's Hawk Talk Daily, an e-newsletter that offers a daily look at the Iowa Hawkeyes, delivered free each morning to thousands of fans of the Hawkeyes worldwide.
IOWA CITY, Iowa — University of Iowa national champion Matt McDonough aims to become the fourth Hawkeye wrestler this year to make a United States roster when he challenges Nahshon Garrett for the 57 kg/125.5 lbs. spot on the 2014 University World Team.
McDonough, a third-place finisher at the 2014 World Team Trials, faces Garrett, the 2014 University National Champion, in a best-of-three challenge series beginning Monday, June 23 at 1 p.m. (CT) in Tempe, Arizona.
"He is an aggressive wrestler, and he's dangerous off the whistle," said McDonough, who split two collegiate matches with Garrett in 2013 — an 8-3 win at the national duals and a 4-2 loss in sudden victory at the NCAA quarterfinals. "He likes to score points and that's what you come to expect in this sport. I am 1-1 against him so I know both sides of the fence. Now it's a matter of going out and getting what you want."
| | |
| --- | --- |
| | "It has always been the goal to wrestle for USA, whatever level that may be. Right now I have a chance to represent the U.S. at the University level and I'm taking advantage of my opportunity." |
A McDonough victory would mean four Hawkeyes are heading overseas to represent Team USA in international competition. Former national champions Brent Metcalf and Tony Ramos qualified for the U.S. World Team and compete at the 2014 World Championships in Tashkent, Uzbekistan, on Sept. 8-14.
Iowa redshirt freshman Thomas Gilman made the United States Junior World Team for the second straight year and will represent the U.S. in Croatia from Aug. 5-10.
McDonough said sharing a training room with World Team members has brought added incentive to what has become a second-chance scenario.
USA Wrestling established a new format for selecting the freestyle University World Team this year, allowing the highest eligible finisher at the Senior World Team Trials (McDonough) to challenge the winner of the 2014 University National Championships (Garrett).
"I don't want to be at home when my teammates are wrestling overseas," said McDonough. "I want to go over there and get my chance. You miss it once, and it's not very often you get another chance to go overseas. I think that is a blessing and something you have to seize."
Four spots on the University World Team have been cemented. B.J. Futrell, James Green, Tyler Caldwell and Chris Perry qualified for weights that will not be challenged. McDonough is one of four wrestlers entering the challenge series. Others include Jordan Oliver, Dustin Kilgore and Tyrell Fortune.
The final eight-man roster will be determined June 23, and McDonough says he understands the significance of hearing his named called as a member of Team USA when the University World Championships get underway July 8-12 in Pecs, Hungary.
"Personally it's a huge stepping stone," he said. "It has always been the goal to wrestle for USA, whatever level that may be. Right now I have a chance to represent the U.S. at the University level and I'm taking advantage of my opportunity."