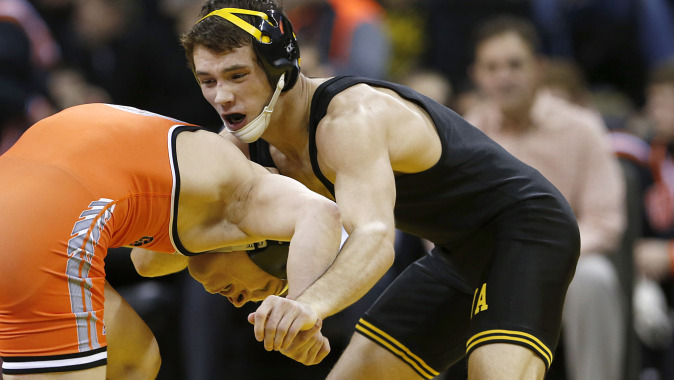 Aug. 8, 2014
Editor's Note: The following first appeared in the University of Iowa's Hawk Talk Daily, an e-newsletter that offers a daily look at the Iowa Hawkeyes, delivered free each morning to thousands of fans of the Hawkeyes worldwide.
IOWA CITY, Iowa — Thomas Gilman has been coached to find a routine, so in each of the last two summers he has made a habit of competing for a world title.
The University of Iowa sophomore qualified for the United States Junior World Team for the second straight year and will represent Team USA at 55 kg at the Junior World Championships on Sunday in Croatia.
Gilman was 2-2 at the championships last year and placed eighth. He posted an identical record at the FILA Cadet World Championships in 2011. He said in both years he was physically ready to perform but green behind the ears. Today, he says, the big picture is clearer.
"I'm better in many ways," he said. "I'm more mature and have grown up a lot. That's the biggest thing; I'm more mentally strong at this point than I was last year. Obviously, my technique has improved, but the No. 1 thing that has improved is my head."
Gilman has had no choice but to improve his wrestling across the board. In Iowa City, you either get better or you become one with the mat.
In his first year on campus he wore a redshirt behind two-time NCAA champion Matt McDonough. Last year he shuffled in-and-out of the lineup with All-American Cory Clark, and this summer his training partners included Tony Ramos and Brent Metcalf — two members of the United States Senior World Team.
"It is not a biased thing to say that Iowa City is the best training situation for a small guy," said Gilman. "We have four guys on the World Team this year. You have got to go into practice with your head on straight or you're going to get your butt kicked."
Gilman qualified for the World Championships on May 30. He took two weeks off at the beginning of June before returning to Iowa City with "blinders on".
"I took a little bit of a break and came back ready to do everything right," he said. "I trained hard through our training cycle with camps and everything. I've been working hard and smart."
He spent the last part of July training in Columbus, Ohio, before leaving for Croatia on Aug. 4, where he will have six days to prepare his body for a run at a gold medal — a goal that he says drives him no matter the season, no matter the locale.
"No matter where my training is, whether it is the middle of college season or the middle of summer, the goal is always to win a world or Olympic gold medal. That's always on the front of my mind.
"Tom and Terry talk all the time about finding a routine and groove and sticking with it no matter where you're at. No matter what happens, you stick to that routine. If your weight isn't where you want it or your travel is derailed, having that routine will give you the confidence knowing you're doing everything right.
"I know I've been training with Ramos, McDonough, Metcalf, Clark — some of the best guys in the country and world — so I'm confident knowing there has been nobody scrapping harder than me. I'm ready."