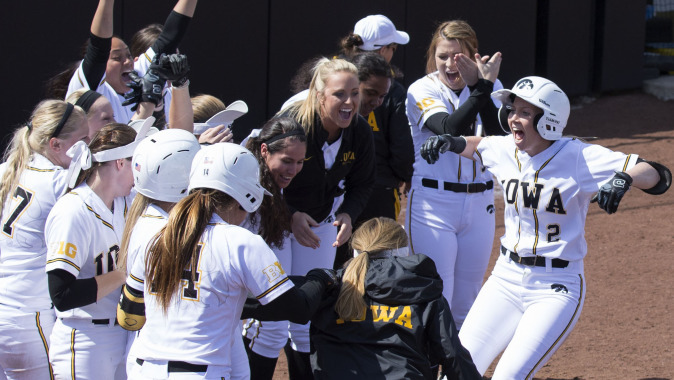 Aug. 9, 2014
Editor's Note: The following first appeared in the University of Iowa's Hawk Talk Daily, an e-newsletter that offers a daily look at the Iowa Hawkeyes, delivered free each morning to thousands of fans of the Hawkeyes worldwide.
By JIL PRICE
hawkeyesports.com
IOWA CITY, Iowa — After feeling a level of disappointment at the conclusion of the past two seasons, six members of the University of Iowa softball team — Whitney Repole, Haley Hansel, Erin Erickson, Holly Hoffman, Shayla Starkenburg and Kara Misel — decided it was time to make a change.
They all made it their priority to stay and train together in Iowa City throughout the summer.
"Every year I've been here we've had a disappointed feeling (at the end of the season)," Repole said. "This year, we're taking the offseason seriously, and we want to change some things. That starts with putting in the extra time and getting away from distractions."
The student-athletes have been honing their skills through offensive and defensive drills at Pearl Field and take turns catching for Starkenburg, a redshirt sophomore pitcher.
"Staying here over the summer and having these girls around has been beneficial for me," Starkenburg said. "They help push me, whether it's in the weight room or conditioning, and it has made me stronger. I'll be able to throw more innings and pitch more this coming season.
"Being in town, they're just a phone call away, so I can always find someone willing to catch or work out with me."
The Hawkeyes have been training four days a week with Iowa's strength and conditioning staff. Repole says each individual has posted a personal record in the weight room in lifts, jumps, or speed training.
The group knows it must focus on more than skill and strength and is continually working on improving on the mental aspect of their game.
"This summer has been about toughening all aspects of the game, not just skill-wise," Repole said. "We've been focusing on not just getting stronger, faster and improving on the aspects of the game, but also creating a new mentality.
"We are developing more of an anti-fragile state of mind. We want to embody a relentless attitude that never stops fighting and never gives up. We struggled with some mental aspects, so our training this summer has improved that area."
With wins over Texas, Wisconsin, and Northwestern and a doubleheader sweep of Missouri — all teams that advanced into postseason play in 2014 — the Hawkeyes know what they are capable of and want to use those experiences to develop consistency this season.
"We're shooting for a more consistent season," Repole said. "Last year, we had moments that were great and moments that were awful. Consistency is one of our goals this year. We want to make postseason, but handling ourselves in the season is going to help with that.
"We don't want to let what anyone else says or does get in the way of us being Hawkeyes and winning like we know how to do. We can't let things from the outside affect us or get in the way of our success."