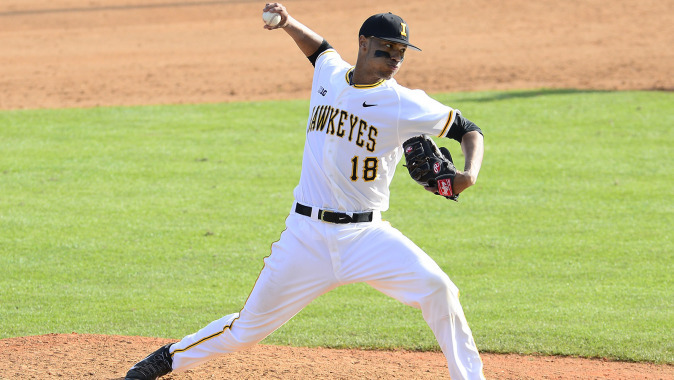 Aug. 18, 2014
Editor's Note: The following first appeared in the University of Iowa's Hawk Talk Daily, an e-newsletter that offers a daily look at the Iowa Hawkeyes, delivered free each morning to thousands of fans of the Hawkeyes worldwide. To receive daily news from the Iowa Hawkeyes, sign up HERE.
By JAMES ALLAN
hawkeyesports.com
IOWA CITY, Iowa — University of Iowa junior Blake Hickman spent the summer learning how to pitch on the Cape.
Hickman focused solely on pitching for the Hyannis Harbor Hawks in the Cape Cod Baseball League. He pitched every fifth day, making nine starts and posting a 3-4 record with a 4.91 ERA. He allowed 40 hits in 36 2/3 innings, where he had 32 strikeouts against 19 walks.
"I am starting to fall in love with the process of being a pitcher," said Hickman, who made the transition to the mound midway through his 2014 collegiate season. "Starting all summer gave me a chance to go out and compete and then have time to think about my next start and about what I did well and poorly in my last outing."
In Hickman's three victories, he pitched 18 1/3 innings, allowing two runs on 13 hits with 14 strikeouts for a 0.98 ERA. In his other five starts, he gave up 18 runs in 18 1/3 innings.
It was during the struggles where it forced Hickman to learn how to get people out.
"One game, my curve ball wasn't working and my splitter was just so-so," he said. "Those are the type of games where you have to find ways to get batters out and give your team the best chance to win. Having those types of starts, you learn to spot your fast ball up and mix speeds.
"Even if your pitches aren't working well, you have to display confidence in your pitches. When things aren't going well, you have to keep competing."
Hickman revved up his fastball to 97 miles per hour early in the summer and was consistently in the 93-95 range throughout the two month season. His biggest area of growth was learning how to change speeds to complement his velocity.
"The biggest thing I took away from the summer was learning how to mix up speeds and not rely on my fastball," said Hickman. "I had to use all of my pitches to get guys out. It was about making quality pitches."
Hickman says the experience in the Cape has made him hungry to continue working to be a front of the rotation starter for the Hawkeyes in 2015. He wants to build on a sophomore season where he went 2-2 with a 3.93 ERA in 17 appearances, including five starts.
"This was the beginning of a process of me hopefully being able to be our Friday starter," said Hickman. "It has made me hungry because I threw against the best, and I got guys out who were the best.
"Going out (to the Cape) made me hungrier to keep getting better because I know I am still learning how to pitch. I am looking forward to getting back to school to work with coach (Rick) Heller and coach (Scott) Brickman in the everyday process of improving so I can be the one called upon for Friday night starts."