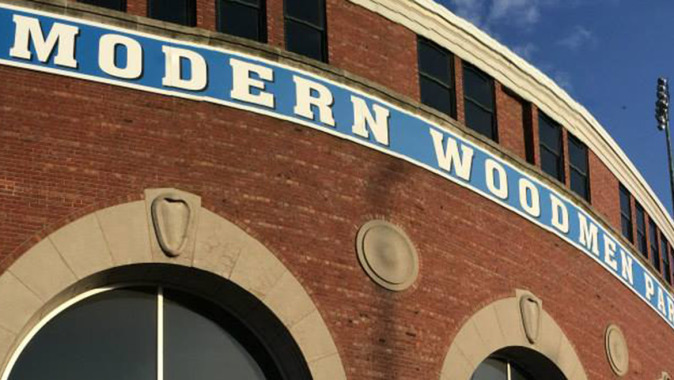 Sept. 10, 2014
IOWA CITY, Iowa — The University of Iowa baseball team will open its fall ball schedule by facing the Ontario Blue Jays on Sunday at 2 p.m. (CT) at Modern Woodmen Park in the Quad Cities. It will be the Hawkeyes' first game at the venue since 2010.
Admission is $5 and fans can enjoy $2 drinks (pop and beer) and peanuts throughout the contest. Dogs are welcome to attend for Bark in the Park, and postgame, kids can run the bases. Groups of 10 or more can purchase group tickets for $3 each.
Tickets are available by calling the Modern Woodmen Park box office at (563) 324-3000. It is open 9 a.m. to 5 p.m. daily through Friday and starting at 11 a.m. Sunday. Parking for Sunday's game will be free of charge.
Gates will open at 1 p.m. and amusements will also operate during the contest.
The Ontario Blue Jays are one of Canada's top-ranked amateur baseball programs, who had seven players selected in baseball's 2014 Major League Baseball Draft. Iowa freshman Austin Guzzo competed for the Blue Jays last season.
Iowa is playing its fall ball schedule at various stadiums around the state throughout the fall due to construction at Duane Banks Field.
New artificial turf is being installed in the outfield at the facility to complement the infield, which had AstroTurf installed prior to the 2014 season. The Hawkeyes are also having a new outfield fence and video scoreboard installed at the facility.
The Hawkeyes will face North Iowa Area Community College (NIACC) at Clinton's Ashford University Field on Oct. 1 and Indian Hills Community College at Waterloo's Riverfront Stadium on Oct. 3. The program will also hold its annual Scout Day at Veterans Memorial Stadium in Cedar Rapids on Sept. 26.