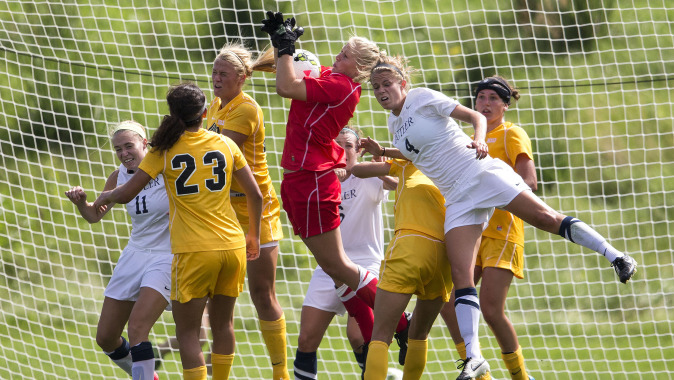 Sept. 16, 2014
IOWA CITY, Iowa — University of Iowa junior Hannah Clark has been named the Big Ten Player of the Week by College Sports Madness.
The Fort Collins, Colorado, native earned the distinction after leading the Hawkeyes to a pair of shutout victories over Illinois (2-0) and Northwestern (1-0) last weekend. Iowa's 2-0 start in Big Ten play is the best for the program since 2007, and the victory over the Fighting Illini was the Hawkeyes' first since 2008.
Clark opened the weekend by making four saves in a 2-0 win over Illinois before following with a three-save effort in Iowa's 1-0 victory over Northwestern. Clark has posted three-straight shutouts to push her career total to 14 — the second-most in program history.
Clark is 3-0 with a 0.57 goals against average this season, making 10 saves in 315:00 minutes. She hasn't been scored upon in her last 273:13 minutes in goal.
The Hawkeyes (7-1-0, 2-0-0), ranked 16th by Soccer America, return to action Saturday, facing Minnesota at 7 p.m. (CT) at Elizabeth Lyle Robbie Stadium in Minneapolis.