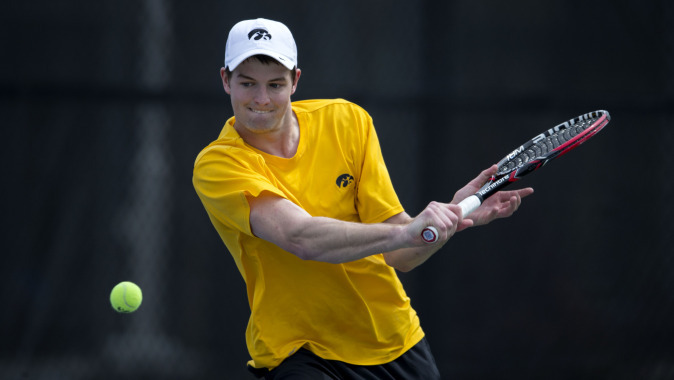 Sept. 17, 2014
Weekly Release

THIS WEEK:
The University of Iowa men's tennis team open the fall season, Sept. 19-21, at the Purdue Fall Invitational and Princeton/Farnsworth Invitational. Players from 18 different schools will compete at Purdue. Andres Estenssoro, Jake Jacoby, and Nils Hallestrand will be making the trip to West Lafayette, Indiana. Matt Hagan, Dominic Patrick, Josh Silverstein, and Lefteris Theodorou will travel to Princeton, New Jersey.
LAST YEAR AT PURDUE INVITATIONAL:
Andres Estenssoro posted a 4-1 doubles record along with a 2-1 record in singles play at last year's Purdue Invitational. Estenssoro, playing alongside his doubles partner Kristiyan Trukov of Marquette, captured the Flight B Consolation title. Competing in his first collegiate event, Nils Hallestrand advanced to the Flight C singles quarterfinals.
HAWKEYE RETURNEES:
The Hawkeyes lost six seniors to graduation last spring, but return four student-athletes in 2014-15. Andres Estenssoro and Matt Hagan enter their senior seasons, while Dominic Patrick is a junior and Nils Hallestrand enters his sophomore campaign. Estenssoro and Dominic Patrick posted 7-6 and 23-16 singles records, respectively, in 2013-14; neither player saw doubles action. Hallestrand was 9-7 in singles and 3-1 in doubles action a year ago. Hagan was 16-15 in singles and 15-10 in doubles.
HAWKEYE NEWCOMERS:
Iowa welcomes three freshmen to the squad: Jake Jacoby (Little Rock, Arkansas), Josh Silverstein (Great Neck, New York), and Lefteris Theodorou (Athens, Greece). Jacoby was a four-time Arkansas state champion. Silverstein was a five-time USTA National Open doubles champion and had success on the junior tournament circuit this past summer. Theodorou, a Greek National champion, was the No. 1 Greek player ranked in U14, U16, and U18.
INTERIM HEAD COACH Ross Wilson:
Ross Wilson, a former two-time NCAA All-American and three-time ITA national doubles champion at Ohio State, is the interim head men's tennis coach after the announcement of Steve Houghton's retirement on Sept. 8. Wilson served as the team's assistant coach last season. Wilson, the 2012 ITA National Assistant Coach of the Year and ITA Central Region Assistant Coach of the Year, came to Iowa after serving as assistant coach at nationally-ranked San Diego during the 2012-13 season. Wilson was a standout at national power Ohio State from 2002-06. He was a two-time NCAA All-American and three-time ITA national doubles champion. He broke the Buckeyes' overall career wins record, career doubles wins record and single season doubles wins record in 2006.
WILSON ON OPENING WEEKEND:
" We're looking for the guys to compete. It's the first college tournament for our three freshmen. They'll be a little nervous and they'll get to see the level of play, but I think that will be good for their experience. With the older guys returning Dominic, Matt, Andres and Nils, they have been through this for a couple years now so they'll know what to expect and were looking to see some big things from them."