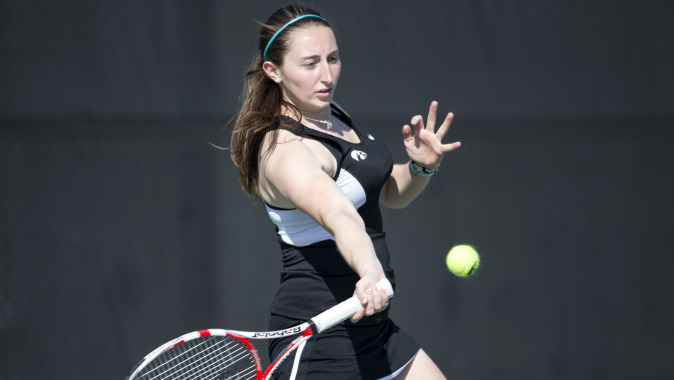 Sept. 18, 2014
Doubles Bracket

| Singles Bracket

IOWA CITY, Iowa — The University of Iowa women's tennis team makes its fall debut Friday in Minneapolis at the Gopher Invitational. The three-day event will take place at the University of Minnesota's Baseline Tennis Center.
"We're excited to get on the court and measure ourselves against some quality opponents," said UI head coach Katie Dougherty. "We've been working hard the last few weeks. I feel like we finished last season with some momentum, so I'm interested to see how we respond to the first week of competition. It will test us both mentally and physically."
In addition to Iowa, the 12 teams competing include Northern Iowa, Drake, Northern Illinois, Wisconsin, Milwaukee, South Dakota State, North Dakota, Iowa State, Eastern Michigan, Kentucky, and Minnesota.
The Hawkeyes have performed well in the Gopher Invitational since 2011. Ruth Seaborne and Morven McCulloch earned a second place doubles finish in the Gold Flight in 2013, and Annette Dohanics was the Maroon Singles Flight Champion in 2012. Three years ago, the Hawkeyes claimed four titles in Minneapolis, including a pair of championships from then-freshmen Shelby Talcott and Morven McCulloch. Talcott teamed with Sonja Molnar to win the Koivu Doubles Flight, and McCulloch went 3-0 to win the Love Singles Flilght.
Tournament action begins daily at 9 a.m. (CT).