Sept. 20, 2014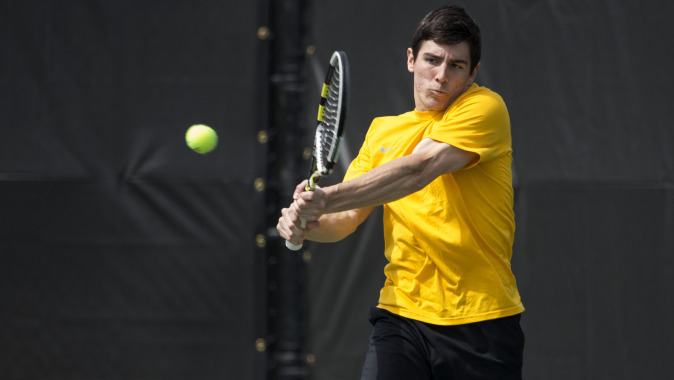 ?
WEST LAFAYETTE, Ind./PRINCETON, N.J. — The University of Iowa men's tennis team continued action in its fall season openers at the Purdue Fall Invitational and at the Princeton Farnsworth Invitational.
"In singles today our freshmen gained valuable experience. They need to get into their mindset earlier in matches," said interim head coach Ross Wilson. "I was very pleased with Josh Silverstein and Dominic Patrick's doubles match today being down match point and turning it around being able to rally back to get a win."
At Purdue, freshman Jake Jacoby squared off against Daridge Saidi of Eastern Kentucky in the flight B quarterfinals. Saidi edged out Jacoby in a close affair in three sets 6-3, 6-7 (4), 6-3. Jacoby bounced back in his next match defeating Ali Shabib of Cleveland State in straight sets 6-3, 6-4.
After winning both singles matches yesterday, senior Andres Estenssoro was forced to retire in his Saturday match against Marc Shideler of Western Michigan. In the process of the match, Estenssoro had to withdraw because of injury. The injury forced Estennsoro to withdraw from the remainder of his scheduled singles and doubles matches.
Nils Hallestrand fell in his consolation first round match in Flight D of the singles competition, but bounced back with a victory in his next match, defeating Ankur Bhargava of the University of Chicago in straight sets 6-1, 7-6 (4).
Jacoby and Hallestrand had action in the A bracket in doubles competition. They put on a perfect performance sweeping Tehrani/Stearns of Marquette 8-0. With the victory they advanced to the consolation final tomorrow.
At Princeton, junior Dominic Patrick was edged out in the consolation semifinals of the Princeton Farnsworth Invitational. In the Lenz Draw, it was Henrique Tsukamoto of Miami who defeated Patrick in three sets 2-6, 6-4, 10-4.
Freshman Josh Silverstein was pitted against George Wall of in a quarterfinal of Dartmouth in the Pagoda main draw. Wall defeated Silverstein in straight sets 6-3, 6-4. Leftherios Theodorou also participated in a quarterfinal, in the Nassau Draw, where he fell to Stefan Vinti of Cornell in three sets 6-1, 2-6, 7-6(5).
Patrick/Silverstein had a nice night in doubles competition on day two in the Black Draw winning their main draw quarterfinal against Livi/Livi of St. Johns 8-7 (6) in a close match. With the victory they advance to the semifinals tomorrow.
"We are improving every day, added Wilson. "I am pleased with the weekend so far."
Action resumes tomorrow at both the Purdue Fall Invitational and Farnsworth Invitational.
PURDUE INVITAIONAL
Flight B Singles
Daridge Saidi (EKU) def. Jake Jacoby (UI) 6-3, 6-7 (4), 6-3 Jake Jacoby (UI) def. Ali Shabib 6-3, 6-4
Flight D Singles
Trukov Dykema (Marquette) def. Nils Hallestrand (UI) 7-6 (1), 4-6, 10-6
Nil Hallestrand (UI) def. Ankur Bhargava 6-1, 7-6 (4)
Flight G Singles
Marc Shideler (WMU) def. Andres Estennssoro (UI) 2-4, ret.
Patrick O'Neill def. Andres Estennssoro (UI) w/o
Flight A Doubles
Jacoby/Hallestrand (UI) def. Tehrani/Stearns (Marquette) 8-0
Flight B Doubles
Cintas/Tajes (Tenn. Tech) def. Estenssoro (UI)/Bhatacharya (Butler) w/o
PRINCETON FANSWORTH INVITATIONAL
Lenz Draw Singles
Henrique Tsukamoto (Miami) def. Dominic Patrick (UI) 2-6, 6-4, 10-4
Pagoda Draw Singles
George Wall (Dartmouth) def. Josh Silverstein (UI) 6-3, 6-4
Nassau Draw Singles
Stefan Vinti (Cornell) def. Lefteris Theodorou (UI) 6-1, 2-6, 7-6(5).
Black Draw Doubles
Patrick/Silverstein (UI) def. Livi/Livi (St. Johns) 8-7 (6)?