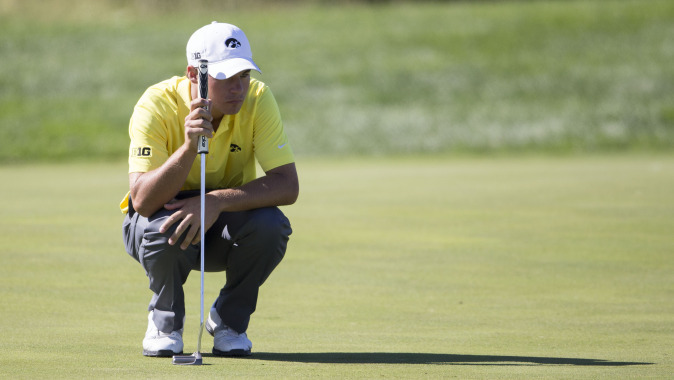 Sept. 22, 2014
Final Results

SKOKIE, Ill. — The University of Iowa men's golf team saved its best round of golf for last on Monday, scoring a 281 in the third and final round of action at the 18th-annual Windon Memorial Classic held at Evanston Golf Club. The Hawkeyes finished ahead of 11 teams, including four Big Ten teams — Purdue, Northwestern, Minnesota and Wisconsin — with an overall final team score of 849 (+9) to tie for third with Michigan. Ohio State finished second and California won the tournament, 834 (-6).
Iowa's third round total of 281 (+1) ties Michigan and Ohio State for the second best round total of the two-day tournament. California and Tulsa each posted rounds of 279 (-1).
"We started slow, but the guys responded well and finished strong," said UI head coach Tyler Stith.
After shooting first and second round scores of 72 (+2) and 69 (-1) on Sunday, sophomore Carson Schaake started right where he left off, posting a career low of 68 (-2) on the final round. Schaake scored a 209 (-1) over the course of 54 holes, grabbing a fourth place finish on the individual leaderboard, trailing tournament medalist Colton Staggs of Tulsa by four strokes.
Schaake's fourth-place finish equals his career-best finish. He tied for fourth at last year's Hawkeye-GRE Invitational.
Junior Nate Yankovich posted a career-best round during the first round of 18 holes on Sunday (68), before finishing with a 73 and 71. He finished with a total of 212 (+2) to tie for 14th.
Sophomore Raymond Knoll finished tied for 17th at three-over-par (213), posting three-staight rounds of 71. Senior Brian Bullington followed Knoll, tying for 36th with a three-round total of 218 (+8), carding rounds of 75, 72, and 71.
Senior Ian Vandersee finished in a tie for 45th. He recorded rounds of 72, 74, and 74 for a 220 (+10).
"Overall, it was a positive performance and result in a competitive field of teams," said Stith.
Iowa returns to action on Oct. 11-12 to compete at the Rod Myers Invitational in Durham, North Carolina. The two-day tournament is hosted by Duke University.