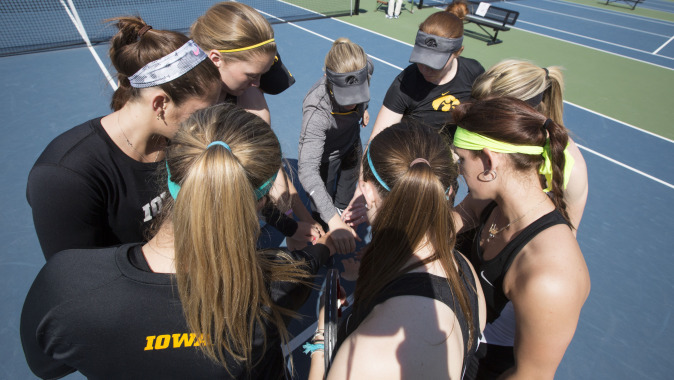 Sept. 25, 2014
IOWA CITY, Iowa — The University of Iowa women's tennis team continues its fall tournament play this week at the Furman Fall Classic in Greenville, S.C. The tournament begins Friday and concludes Sunday at the Mickel Tennis Center.
In addition to Iowa, tournament participants include Alabama, Clemson, Florida State, South Carolina, Tennessee, and Vanderbilt. Of the eight teams set to compete, six were ranked in the top 34 of the final 2014 ITA Collegiate Tennis rankings; Alabama (No. 6), Vanderbilt (No. 11), Clemson (No. 13), South Carolina (No. 26), Florida State (No. 31), and Tennessee (No. 34).
"We're going to be seeing some very good competition this weekend, a lot of ACC and SEC schools," said UI head coach Kate Dougherty.
Last season the Furman Fall Classic proved to be a good test for Iowa. Aimee Tarun made her Hawkeye debut collecting victories in both singles and doubles play. Junior Shelby Talcott made a comeback during the second day of competition, defeating Brigit Folland of South Carolina, 1-6, 6-4, 6-1.
Freshman Montana Crawford leads Iowa with a 4-0 singles record this fall. Crawford took first place in the Gold Flight of the Gopher Invitational last week, defeating UNI's Elvira Lopes, 7-6 (6), 6-2. Crawford and senior Morven McCulloch teamed up in the Draw 10 of the tournament and had success against Hunt/Kemper (UNI), 2-0, retire and going on to defeat Lederman/Trimble (UK) 8-2.
"This is a great opportunity to test ourselves against some of the best teams and players in the country and another good gauge of things we need to work on going into a two and a half week lull before competing again."