Sept. 27, 2014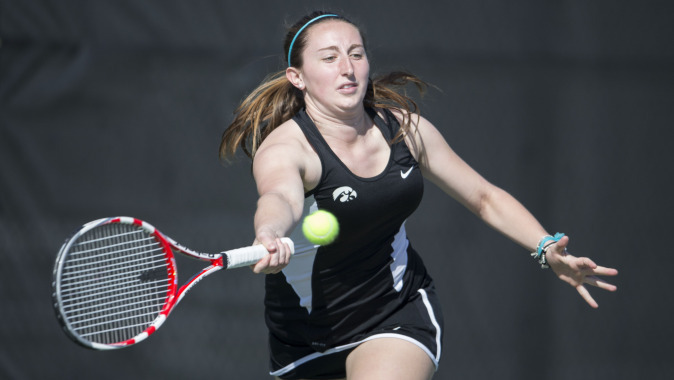 Sept. 27, 2014
Day Two Results

GREENVILLE, S.C. — The University of Iowa women's tennis team completed the second day of action at the Furman Fall Classic in Greenvile, S.C., on Saturday.
Freshman Montana Crawford led the Hawkeyes in singles play defeating Maggie Leavell (VU), 6-2, 2-6, 6-2 in Flight Seven. Crawford will face Vanderbilt's Payton Robinette during tomorrow's competition.
"Montana had had a great start this fall and honestly gets better each match she plays," UI head coach Kate Dougherty said. "She's fast and athletic out there and doing a great job."
Doubles play improved for Iowa, with seniors Katie Zordani and Morven McCulloch taking seventh place after a victory over Furman's Martin/van Lochem, 8-3.
"We ran up against very strong competition today and had some great battles, with a couple of close ones not go our way," coach Dougherty said. "I'm looking forward to a strong finish tomorrow. We're fortunate to have this opportunity to play some of the best teams and players in the country."
Competition at the Furman Fall Classic will resume tomorrow at 9 a.m. for singles play.
Singles Flight One
Gabriela Castaneda (FSU) def. Shelby Talcott (Iowa), 6-4, 6-7 (4), 7-5
Flight Two
Joana Eidukonyte (CU) def. Morven McCulloch (Iowa), 6-2, 6-2
Flight Three
Joanna Henderson (UT) def. Katie Zordani (Iowa), 6-0, 6-1
Flight Four
Keisha Clousing def. Annette Dohanics (Iowa), 6-4, 3-6, 6-2
Flight Five
Ximena Siles Luna (USC) def. Ellen Silver (Iowa), 6-1, 6-0
Flight Six
Alex Martin (USC) def. Anastasia Reimchen (Iowa), 7-5, 6-1
Flight Seven
Montana Crawford (Iowa) def. Maggie Leavell (VU), 6-2, 2-6, 6-2
Doubles
Flight One
Dunn/Perez (UA) def. Talcott/Dohanics (Iowa), 8-7 (5)
Fight Two
Zordani/McCulloch (Iowa) def. Martin/Van Lochem (FU), 8-3
Flight Three
Boles/Tavares (UT) def. Reimchen/Silver (Iowa), 8-4