Sept. 28, 2014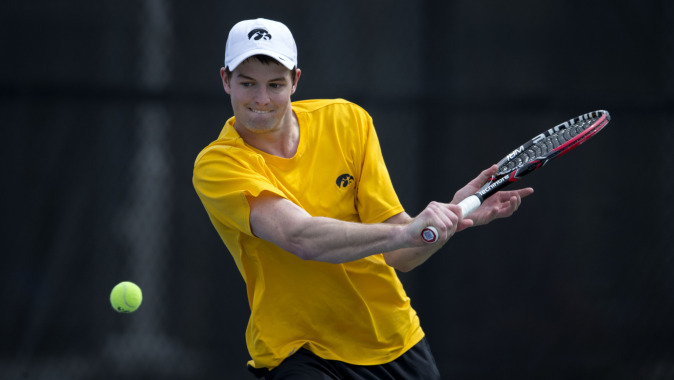 Pre-Qualifying Results

TULSA, Okla.
— University of Iowa men's tennis senior Matt Hagan had himself a great outing at the ITA All American Championships on Saturday. Hagan posted two straight victories in the Pre-Qualifying rounds, making him the lone Hawkeye left to compete in the championship bracket on Sunday.
On Saturday, Hagan grabbed victories over Sanjay Goswami of Weber State in straight sets 6-3, 6-3. And, in a hard-fought match that went three sets, Hagan was able to claw his way to a win over Oklahoma State's Nicolai Ferrigno, 7-5, 3-6, 6-3.
Hagan looked to keeping his winning streak going on Sunday in the third round of Pre-Qualifying. There he squared off against 27th-ranked Strong Kirchheimer of Northwestern. The Hawkeye senior fought hard but was unable to keep his momentum from yesterday going as he fell in straight sets, 6-3, 7-6 (4).
"Matt Hagan lost a tough one today, but it was good to see him put together consecutive wins in a very tough tournament," said interim head coach Ross Wilson.
Elsewhere, Dominic Patrick took part in a consolation match where he faced Arkadijs Slobodkins of Southern Methodist University. Patrick took the match in three sets, 6-3, 3-6, 7-5.
"Dominic pulled out a tough three set match this afternoon. He keeps getting better with every match he plays," added Wilson.
Lefteris Theodorou also claimed a victory in the consolations defeating Todd Volmari of Loyola Marymount in straight sets, 6-3, 6-4.
Jake Jacoby fell to Yannick Junger of the University of Texas at San Antonio in straight sets, 7-6 (5), 7-5 in a consolation matchup. Sophomore Nils Hallestrand battled Everth Dzib of South Florida in a consolation bout, but it was Dzib who claimed the victory, 7-5, 6-2.
"We competed well today and had some good results we need to get back on the practice courts and get better for the ITA Regionals in two weeks," Wilson said.
The Hawkeyes will have a week off before it heads to Norman, Oklahoma, to take part in the ITA Central Regionals, Oct. 9-13.
ITA ALL AMERICAN CHAMPIONSHIPS
Sunday's results
Pre-Qualifying third round singles
Strong Kirchheimer (Northwestern) def. Matt Hagan (UI): 6-3, 7-6 (4)
Consolation Pre-Qualifying singles
Dominic Patrick (UI) def. Arkadijs Slobodkins (SMU): 6-3, 3-6, 7-5
Lefteris Theodorou (UI) def. Todd Volmari (LMU): 6-3, 6-4
Yannick Junger (UTSA) def. Jake Jacoby (UI): 7-6 (5), 7-5
Everth Dzib (South Florida) def. Nils Hallestrand (UI): 7-5, 6-2