Sept. 28, 2014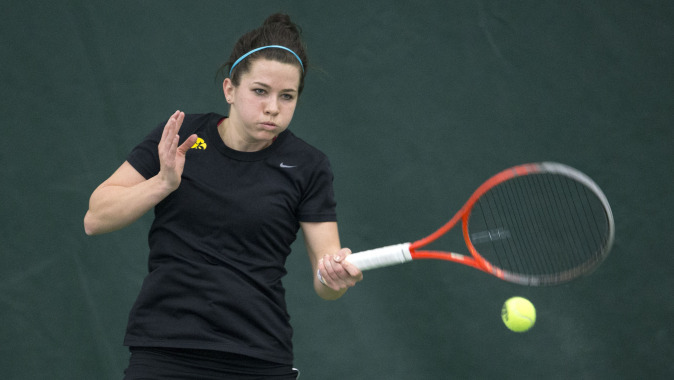 Sept. 28, 2014
Day Three Final Results

GREENVILLE, S.C. — The University of Iowa women's tennis team concluded its last day of competition with three third place finishes at the Furman Fall Classic. Doubles play concluded on Saturday, leaving only the seven flights to compete.
Seniors Shelby Talcott and Morven McCulloch collected third place finishes in the singles flight one and two, respectively. Talcott defeated Tennessee's Brittany Lindl, 5-7, 6-2, 6-3, while McCulloch overtook USC's Brigit Folland, 6-2, 6-3.
On the opposite side, freshmen Anastasia Reimchen and Montana Crawford saw success in flights six and seven in Greenville. Crawford gathered three wins throughout the tournament, concluding with a victory over Payton Robinette (VU), 6-2, 6-2. Reimchen took third in flight six, defeating Furman's Harper Caswell, 4-6, 6-4, 1-0 (10-6).
The Hawkeyes will return to action on Oct. 16 when they head to Stillwater, Oklahoma for ITA Regional competition.
Singles
Flight One
Shelby Talcott (Iowa) def. Brittany Lindl (UT), 5-7, 6-2, 6-3 (3rd)
Flight Two
Morven McCulloch (Iowa) def. Brigit Folland (USC), 6-2, 6-3 (3rd)
Flight Three
Bennett Dunn (UA) def. Katie Zordani (Iowa), 6-4, 6-3 (8th)
Flight Four
Annette Dohanics (Iowa) def. Karlee Bryde (FU), 6-2, 4-6, 6-3 (7th)
Flight Five
Tiffany Taveres (UT) def. Ellen Silver (Iowa), 6-1, 6-3 (4th)
Flight Six
Anastasia Reimchen (Iowa) def. Harper Caswell (FU), 4-6, 6-4, 1-0 (10-6) (3rd)
Flight Seven
Montana Crawford (Iowa) def. Payton Robinette (VU), 6-2, 6-2