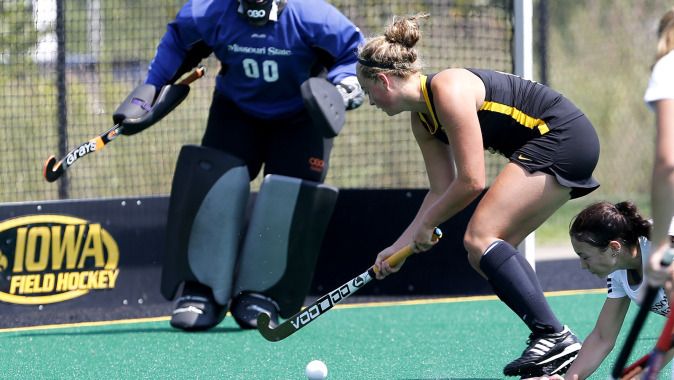 September 30, 2014
Final Stats | Photo Gallery

IOWA CITY, Iowa — University of Iowa sophomore Stephanie Norlander has been named Big Ten Offensive Player of the Week, the conference announced Tuesday. Norlander paced Iowa's offensive attack last week with a combined five goals on 12 shots over two games.
The seventh-ranked Hawkeyes (7-2, 2-0) triumphed over No. 17 Indiana, 4-1, on Sept. 26, and defeated Missouri State, 7-0, on Sept. 28. Norlander shined in Iowa's 4-1 victory over No. 17 Indiana, netting a pair of goals on seven shots. The momentum carried through the weekend scoring a hat trick in the first 12 minutes against Missouri State, lifting the home team to an early 3-0 lead.
"The first time scoring I just remembered the ball coming in my direction and I said to myself, `I got it' and took the shot," said Norlander — the 2013 Big Ten Freshmen of the Year. "The second one Mallory (Lefkowitz) was dribbling to the circle and looked at me and said `put it in' so I took it again. The last one was a scramble around the net and I was fortunate enough to get a stick on it and knock it in for the score."
This is Norlander's third time receiving Big Ten accolades after receiving the Big Ten Freshmen of the Week honor twice last season (Sept. 17, Oct. 15). The last Iowa player to earn the league's Offensive Player of the Week was Natalie Cafone on Sept. 9, 2014.
With the win over Missouri State, Iowa now holds a four-game win streak while outscoring opponents 19-2 during that stretch (Pacific 5-1, Rutgers 3-0, Indiana 4-1, Missouri State 7-0).
The Hawkeyes return to action Friday, hosting Ball State at 7 p.m. (CT) at Grant Field in Iowa City, Iowa.