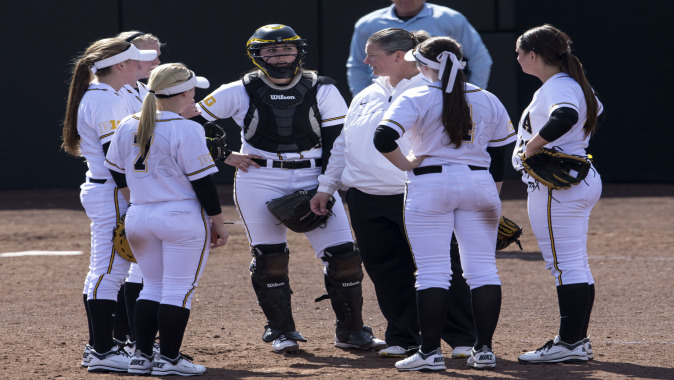 Oct. 7, 2014
IOWA CITY, Iowa — The University of Iowa softball team posted a 1-3 mark at the BIG 4 fall tournament held at Iowa State last weekend. Iowa defeated Iowa Corn Cy-Hawk series rival Cyclones in run-rule fashion, 12-3, but fell to Drake (7-3), Northern Iowa (8-6) and Upper Iowa (8-5).
The Hawkeyes, a team that averaged three runs per game in 2014, averaged 6.5 runs per game in the tournament.
"We got things rolling and couldn't finish out," UI head coach Marla Looper said. "That got frustrating, but on the flipside these are scoring opportunities we've been able to get in. Now we just need to learn to produce in them next time.
"I think we all left with a bad taste in our mouths from the weekend and the challenge moving forward is fixing the little things. We need to take care of the ball and capitalize on our opportunities. It's all very much in our control and in our grasp."
Freshman Ashley Yoways tossed the complete game victory against Iowa State. She allowed three earned runs on 11 hits in five innings.
"Ashley Yoways did a nice job," Looper said. "She kept them off balance and let our defense play. She had some nice plays defensively as well."
The Hawkeyes used home runs by Whitney Repole and Sammi Gyerman and doubles from Repole and Megan Blank to key their run-rule victory. Repole drove in four runs to lead the squad, while Gyerman added two RBIs and Allie Wood and Erin Erickson posted one RBI apiece.
"Offensively, we attacked the ball," Looper said. "Even in crunch situations, we were able to make things happen and that's why we were able to put up 12 runs."
Iowa concludes its fall season at home with a double header against Kirkwood Community College on Friday, Oct. 10. First pitch is scheduled for 5 p.m. (CT).