Oct. 24, 2014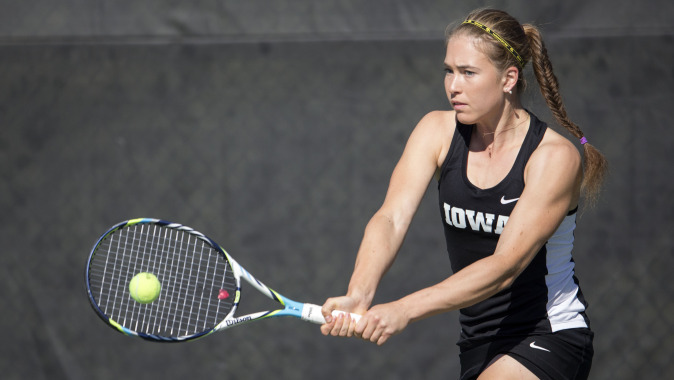 Oct. 24, 2014
DES MOINES, Iowa — The University of Iowa women's tennis team won 9-of-11 matches at the Drake Jamboree on Friday in Des Moines.
"We had a slow start in our first round of doubles and were able to get it going and pull out those matches in the breakers," said UI head coach Katie Dougherty.
Freshmen Montana Crawford continued her rookie season as a Hawkeye on a high note. Crawford defeated Liz Vermillion (CU), 6-1, 6-3 in singles, and teamed with Mela Jaglarz (DU) for the first round of doubles, defeating Noonan/Vernillion (CU), 8-6. She then played with SIUE's McKenzie Thomas, overcoming Mela Jaglarz (DU) and Cassia Wojtalik (BU), 8-1.
Fellow freshman Anastasia Reimchen found a rhythm during the first day at Drake, defeating Natalie Miller (CU), 6-0, 6-2 during singles play, and teaming with senior Annette Dohanics to defeat Hartjes/Nelsen (CU), 8-7 (5) and Hanna/Shivalingaiah (NEB), 8-3.
"I enjoyed playing doubles with Nettie today. We both competed well and I was happy with how I played in singles," Reimchen said. "Overall the team had a successful day and we are all excited for tomorrow."
Dougherty echoed the thoughts of her new freshman.
"I'm pleased overall with how we competed our first day and we're all looking forward to another great day of competition," said Dougherty.
Play is set to resume Saturday at 9 a.m. (CT) in Des Moines.
Singles
Jennie Hartjes (CU) def. Annette Dohanics (IOWA), 6-1, 6-3
Katie Zordani (IOWA) def. Darby Rosette (CU), 6-2, 6-4
Anastasia Reimchen (IOWA) def. Natalie Miller (CU), 6-0, 6-2
Montana Crawford (IOWA) def. Liz Vermillion (CU), 6-1, 6-3
Aimee Tarun (IOWA) def. Ashley Monaco (CU), 6-2, 6-2
Doubles
Dohanics/Reimchen (IOWA) def. Hartjes/Nelsen (CU), 8-7 (5)
Dohanics/Reimchen (IOWA) def. Hanna/Shivalingaiah (NEB), 8-3
Tarun/Zordani (IOWA) def. Miller/Rosette (CU), 8-7 (6)
Maddox/Matysova (NEB) def. Tarun/Zordani (IOWA), 8-6
Crawford (IOWA)/Jaglarz (DU) def. Noonan/Vermillion (CU), 8-6
Crawford (IOWA)/Thomas (SIUE) def. Mela Jaglarz (DU)/Cassia Wojtalik (BU), 8-1